14 Best Pakistani Designer Brands in USA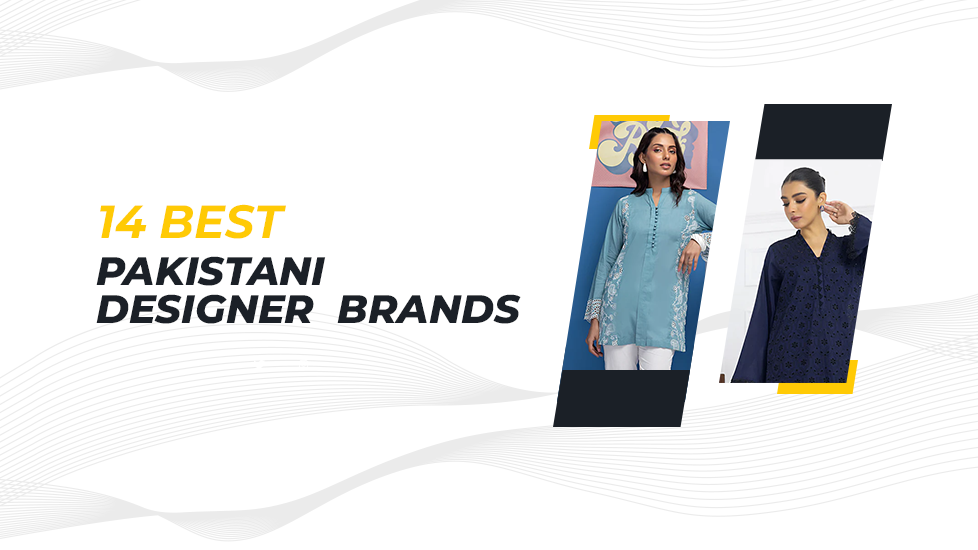 Pakistani fashion has gained immense popularity worldwide for its unique blend of traditional and contemporary designs. The USA is home to some of the best Pakistani clothing brands that offer a wide range of options for fashion enthusiasts. From elegant bridal wear to trendy casual outfits, these brands have something for everyone.
Moreover, by adopting Pakistani fashion, you not only get to experience the rich cultural heritage but also support local artisans and craftsmen. So why not add a touch of Pakistani elegance to your wardrobe? In this blog, we will explore the 14 best Pakistani designer brands in USA, known for their exceptional quality, exquisite craftsmanship, and attention to detail. Get ready to take off on a fashion journey that celebrates the beauty of Pakistani culture and style!
The Influence of Pakistani Fashion in USA
Pakistani fashion has undeniably impacted the fashion scene in the United States, transcending cultural boundaries and winning the hearts of many. One remarkable aspect of this influence is the popularity of Pakistani outfits during Muslim and Indian festivals celebrated by the diverse communities in the USA.
Eid Celebrations
Eid-ul-Fitr and Eid-ul-Adha are two major Islamic festivals celebrated with great fervor by Muslims in USA. These joyous occasions mark the end of Ramadan and the annual Hajj pilgrimage, respectively. Pakistani fashion plays an integral role in these celebrations as people adorn themselves in exquisite traditional ensembles.
Traditional Eid Attire
On Eid, it's customary for both men and women to wear new clothes to symbolize a fresh start. Brands in Pakistan offer an array of stunning options, from intricately embroidered shalwar kameez for men to elegant and vibrant Anarkali suits and sarees for women. These outfits are characterized by their intricate embellishments, rich fabrics, and vibrant colors, reflecting the festive spirit of Eid.
Fusion Styles
Many individuals in the USA blend Pakistani attire with Western fashion elements to create unique fusion looks. For example, women might pair a Pakistani kurta with jeans or trousers, while men may opt for sherwanis with tailored trousers. These fusion styles not only pay homage to Pakistani traditions but also showcase the adaptability of Pakistani fashion in the Western context.
Diwali Celebrations
Diwali, the Festival of Lights, is celebrated by the Indian community in USA with enthusiasm and splendor. While it's an Indian festival, top clothing brands in Pakistan play a role in these celebrations as well, thanks to the cultural interconnectedness of South Asia.
Diwali Outfits
During Diwali, many individuals, regardless of their cultural background, choose to wear colorful and intricately designed outfits reminiscent of traditional Indian and Pakistani clothing. Pakistani fashion, with its emphasis on intricate embroidery and luxurious fabrics, aligns perfectly with the opulence of Diwali celebrations. Anarkali suits, lehengas, and churidar suits are popular choices for women, while men opt for kurta pajamas and sherwanis.
Celebrating Diversity
Diwali in the USA symbolizes the spirit of multiculturalism as people from various backgrounds come together to celebrate. Pakistani fashion's presence during Diwali demonstrates the harmonious blending of cultures, emphasizing unity in diversity.
14 Best Pakistani Designer Brands in USA
These 14 Pakistani designer brands have made a mark in USA and contributed to the rich tapestry of global fashion. Whether you're seeking traditional elegance, contemporary chic, or something in between, these brands offer diverse options to suit every fashion preference.
Sana Safinaz
Sana Safinaz, established in 1989 by the visionary designers Sana Hashwani and Safinaz Muneer, is a renowned fashion label known for its luxury clothing and accessories. With unwavering dedication, they have curated a brand that guarantees top-notch fabric quality, contemporary and captivating prints, and cutting-edge silhouettes. This fashion house consistently delivers premium, up-to-date styles that resonate with modern tastes and preferences.
Elan
ÉLAN represents elegance, luxury, and sheer luxury. Launched in 2006, this fashion powerhouse swiftly gained recognition thanks to its enchanting evening and bridal wear, intricately crafted to captivate hearts. It's an aura where tasteful body-conscious silhouettes aren't just clothing but a canvas for self-expression. ÉLAN's journey isn't merely about fashion; it's about making a statement, embracing sophistication, and celebrating the beauty of detailed craftsmanship. From the beginning, ÉLAN has been a story of passion, artistry, and a relentless pursuit of elegant excellence.
Maria B
When we talk about top clothing brands in Pakistan, Maria B will be part of our list. Renowned for its exceptional blend of traditional and contemporary aesthetics, the Maria B brand stands as a hallmark of timeless elegance in the world of fashion. With a commitment to intricate craftsmanship, luxurious fabrics, and an unwavering focus on quality, Maria B has carved a niche for itself. It offers various exquisite designs catering to different occasions, from casual wear to opulent bridal collections. The brand's meticulous attention to detail and artistic embellishments have earned it a devoted following among those who seek sophisticated, fashion-forward attire with a touch of cultural richness.
HSY (Hassan Sheheryar Yasin)
HSY, which stands for Hassan Sheheryar Yasin, is a fashion Brands in Pakistan that exudes luxury and grandeur. Founded by the eponymous designer, HSY is celebrated for its luxurious bridal wear and couture collections. With a commitment to elegance and a penchant for regal designs, HSY has become a cornerstone of high-end Pakistani fashion. The brand's creations are a harmonious fusion of traditional craftsmanship and modern aesthetics, making it a top choice for those seeking regal Pakistani attire that showcases exquisite handwork, intricate detailing, and a sense of timeless beauty.
Nomi Ansari
Nomi Ansari is a name related to vibrant creativity and contemporary fashion. This renowned Pakistani fashion designer has earned acclaim for infusing a burst of color and energy into the fashion world. Known for his playful and exuberant designs, Nomi Ansari's collections are a celebration of bold and vibrant hues. His creations are the perfect choice for those who seek to make a striking and stylish statement at various events and gatherings. Nomi Ansari's unique aesthetic captures the essence of youthful exuberance and modern fashion, making him a beloved figure in Pakistani traditional clothes.
Asim Jofa
Asim Jofa, the name synonymous with exquisite Pakistani fashion, has captivated the hearts of style-conscious individuals in USA and beyond. Renowned for his innovative fusion of traditional craftsmanship and contemporary aesthetics, Jofa's creations embody luxury and sophistication. From intricately embellished bridal couture to chic ready-to-wear ensembles, his designs resonate with the diverse tastes of the British fashion scene. With a commitment to quality and a keen eye for detail, Asim Jofa continues to redefine Pakistani fashion, making it accessible and irresistible to USA fashion enthusiasts, ensuring that every outfit tells a story of elegance and grace.
Faraz Manan
Embodied in opulent fabrics and intricate embellishments, Faraz Manan's collections seamlessly blend tradition with contemporary allure. His luxurious bridal couture and pret-a-porter lines cater to the discerning tastes of fashion lovers worldwide, including the USA, where his designs are celebrated for their timeless elegance and regal aesthetics.
Zara Shahjahan
Zara Shahjahan's brand reflects a celebration of Pakistan's rich cultural heritage through modern, vibrant designs. Her creations are a testament to craftsmanship and artistry, captivating the USA fashion scene with their distinctive fusion of tradition and modernity, making every outfit a statement piece.
Sania Maskatiya
Sania Maskatiya's brand personifies sophistication with a touch of whimsy. Her ethereal designs have earned a dedicated following in the USA, like Gul Ahmed dresses online, offering a diverse range of contemporary and traditional ensembles that effortlessly exude grace and style.
Fahad Hussayn
Fahad Hussayn is a maverick in the Pakistani fashion industry. His avant-garde designs push boundaries and challenge conventions, gaining admiration from fashion-forward individuals in the USA. Each collection is a testament to his artistic genius and innovative approach to couture. In our list of pakistani brands, we won't forget Fahad Hussayn.
Nida Azwer
Nida Azwer's label is a homage to Pakistan's artisanal traditions. Her elegant creations, often inspired by history and culture, have made their mark in the USA, resonating with those who appreciate finely crafted ensembles infused with a touch of heritage.
Farida Hasan
Farida Hasan's brand epitomizes grace and charm. Her designs are like poetry in motion, captivating the USA fashion scene with their ethereal beauty and timeless appeal. Each piece is a work of art that exudes femininity and sophistication.
Deepak Perwani
Deepak Perwani is synonymous with classic elegance and impeccable craftsmanship. More like maria b dresses, His versatile collections, spanning bridal couture to everyday wear, have a dedicated following in the USA for their understated luxury and attention to detail.
Mohsin Naveed Ranjha
Mohsin Naveed Ranjha's brand is a tribute to grandeur and flamboyance. His bold and vibrant creations have garnered admiration among the fashion-forward crowd in the USA, offering a unique blend of tradition and contemporary style that demands attention.
Where to Shop for Pakistani Brands in USA
Several boutiques and stores cater to the growing demand for exquisite Pakistani outfits, allowing customers to indulge in the rich tapestry of colors, fabrics, and designs this fashion realm offers. Here are six notable stores where you can shop for top female clothing brands in Pakistan in the USA:
House of Faiza
House of Faiza, situated in Manchester, is a fashion haven for those seeking elegance and sophistication in Pakistani attire. This store curates a wide range of ensembles, from traditional to contemporary, all carefully selected from top Pakistani designers. House of Faiza's commitment to quality and style makes it a go-to destination for fashion-forward individuals across the USA.
I LUV Designer
With a presence in Birmingham and an extensive online store, I LUV Designer offers a diverse range of Pakistani clothing brands . Their selection includes stunning outfits for men, women, and children, ensuring that the entire family can indulge in the splendor of Pakistani fashion. The store's accessibility and comprehensive offerings make it a favorite among USA shoppers.
Asian Couture
Asian Couture, located in London, is a one-stop shop for all things Pakistani and Indian fashion. They showcase a curated collection of outfits from prominent designers, making it convenient for customers to explore various styles and trends. The store's commitment to customer satisfaction and authenticity has earned it a loyal following.
Memsaab
Memsaab has established itself as a trusted name in Pakistani fashion retail, with multiple stores across the USA. They offer diverse designer outfits, from intricately detailed bridal wear to everyday attire. Memsaab's dedication to bringing the latest Pakistani fashion trends to the USA market has garnered a loyal customer base.
PK Bridal
Situated in Bradford, PK Bridal is a hidden gem for those seeking Pakistani bridal and formal wear. This boutique specializes in bespoke bridal attire, ensuring brides-to-be can access unique and personalized ensembles for their special day. PK Bridal's craftsmanship and attention to detail make it a destination for bridal shopping.
String & Thread: The Best Choice for Pakistani Designer Brands
While all these stores offer an impressive selection of Pakistani designer brands, one stands out as the USA's ultimate destination for fashion connoisseurs – String & Thread. It has earned a reputation for excellence with its exclusive focus on Pakistani fashion.
String & Thread curates a handpicked collection of the finest Pakistani designer brands, showcasing diverse styles and aesthetics to cater to every taste. Their commitment to quality, authenticity, and customer satisfaction is unmatched. Whether you're searching for a dazzling bridal ensemble, an elegant formal outfit, or trendy casual wear of Khaadi designer clothes, String & Thread offers a seamless shopping experience that allows you to explore the best of Pakistani fashion from the comfort of the USA.
Let's Wrap Up
The USA fashion industry has been graced by 14 amazing Pakistani designer brands, each showcasing a unique blend of traditional and contemporary styles. From Sana Safinaz's timeless elegance to Farida Hasan's bohemian charm and HSY's opulent bridal wear, these designers have made their mark on the fashion world.
Moreover, their collections cater to a diverse audience seeking sophisticated and unique attire, with fusion designs that transcend cultural boundaries. With a commitment to quality, innovation, and heritage, the future of Pakistani fashion in the USA looks promising. Embrace these 14 top female clothing brands in Pakistan for endless style possibilities and elevate your fashion journey.