How to Dress Up for Dholki?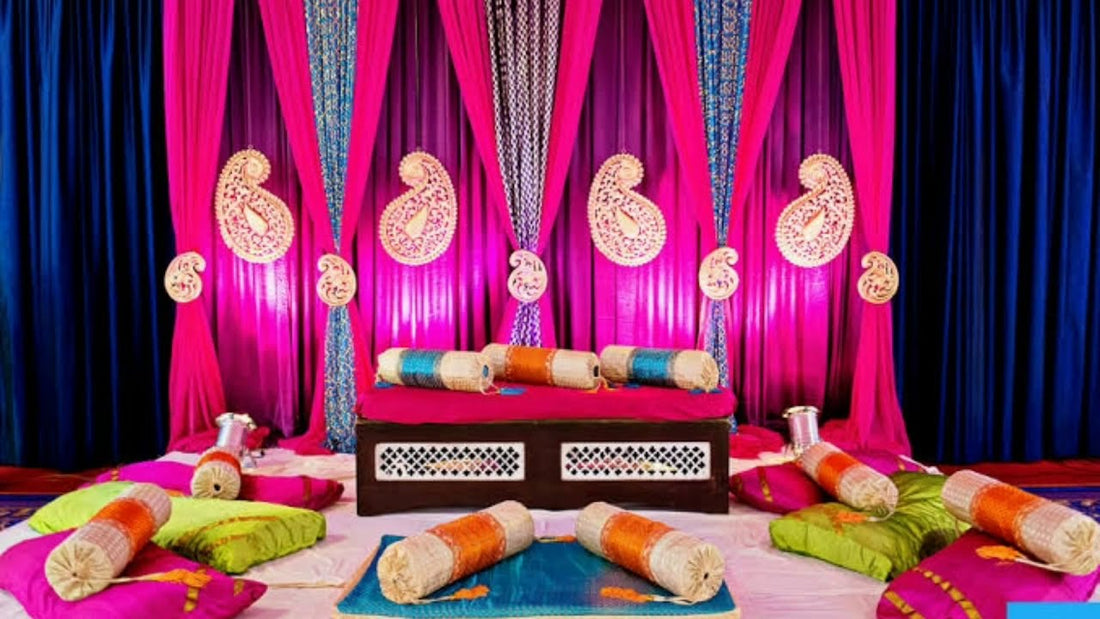 Pakistani wedding culture celebrates lively family gatherings, mouth-watering cuisine, and countless cherished moments. While Barat and Valima are a must, the Mehandi and Mayon rituals bring the whole affair to life with a splash of color. These traditions make the wedding a feast for the eyes and an occasion to remember forever.
In addition, slaying it at each event is mandatory for chics. Whether it's a dholki party or Mayon night, looking drop-dead gorgeous is a must. Keep reading this if you're looking for a solution to look the part in any event. Here are some informational tips on how to dress for dholki at any small Pakistani wedding event.
What Is The Meaning of Dholki Night
Dholki meaning refers to the traditional drum, which sets the beat for this lively event. As the night unfurls, the air fills with joyous melodies, heartfelt singing, and energetic dancing. Friends and family come together to create a joyful ambiance adorned with colorful attire and captivating decorations. The dholki night brings everyone closer, making a sense of togetherness and excitement as the beat of the dholki drums resounds in the hearts of all who participate.
Tips for Choosing the Perfect Dholki Outfits
Looking fabulous on a Dholki night calls for a perfect blend of traditional and personal flair. Finding that ideal outfit is key! Here are some tips to ensure you shine bright and feel confident in your attire, capturing the essence of the event flawlessly.
Color Palette and Fabric Selection
When choosing your Dholki outfit, embrace vibrant colors that symbolize joy and celebration. Rich reds, deep blues, and resplendent golds often dominate the color palette. Additionally, opt for fabrics that are comfortable and breathable, allowing you to dance and enjoy the festivities with ease.
Silhouette Selection
Selecting the fitting silhouette is crucial for a striking dholki party look. For instance, Lehengas with their twirl-worthy skirts exude grace, while an elegant anarkali suit offers timeless charm. Choose a silhouette that complements your body type and makes you feel confident and comfortable.
Mixing and Matching
It is your secret ingredient for a look as amazing as you are when it comes to figuring out what to wear to a Pakistani wedding. You can express your creativity by mixing and matching different elements. Pair a heavily embroidered top with a flowing skirt or palazzo pants for a unique twist. This approach highlights your uniqueness and enables you to reuse individual pieces for different events.
Accessorize with Finesse
Accessories play a pivotal role in completing your Dholki ensemble. Adorn yourself with statement jewelry, such as chandelier earrings or a dazzling necklace, to amplify the impact of your outfit. A delicate clutch and elegant footwear serve as the finishing touches, enhancing your overall look.
Hairstyle and Makeup
Your hairstyle and makeup should complement your dholki outfits while reflecting your personal style. Classic curls, elegant updos, or intricate braids often pair well with traditional attire. Likewise, opt for makeup that enhances your features, using bold shades to bring attraction in your eyes and lips.
Celebrity Inspiration
Seek inspiration from celebrities and fashion influencers who have mastered the art of Dholki dressing. While drawing from their styles, remember to infuse your personality into your outfit for a distinctive touch.
Where to Find the Perfect Dholki Outfit
When it comes to finding the perfect dholki outfit, online platforms like String & Thread cater to the USA audience with an array of options. Whether you're a bride or a bridesmaid, they offer an exquisite collection of stitched and unstitched dholki outfits. Renowned brands such as Maria B, Mariyum n Maria, and more are available, ensuring high-quality and trendy designs. Searching for what to wear to a dholki? Look no further than String & Thread for a seamless shopping experience that brings forth top-notch choices, helping you stand out and make a statement at this joyous celebration. For further details, check String&Thread and get your best outfit from your desired brand at an affordbale price.
In the Light of These Facts
In the enchanting tapestry of Pakistani weddings, the Dholki night is a vibrant thread woven with music, dance, and cherished togetherness. Dressing up for this occasion is an art that melds tradition and individuality, creating a symphony of colors, designs, and fabrics. As you begin to plan your dholki outfit remember that Pakistani weddings clothes are not mere fabrics; they are vessels that carry the spirit of celebration, family, and culture. You add your unique brushstroke to this colorful canvas of joy with each outfit. So, let your attire resonate with your essence, sparkle with tradition, and twirl with happiness, illuminating the Dholki night in all its shining glory.