How to Wash Wedding Dress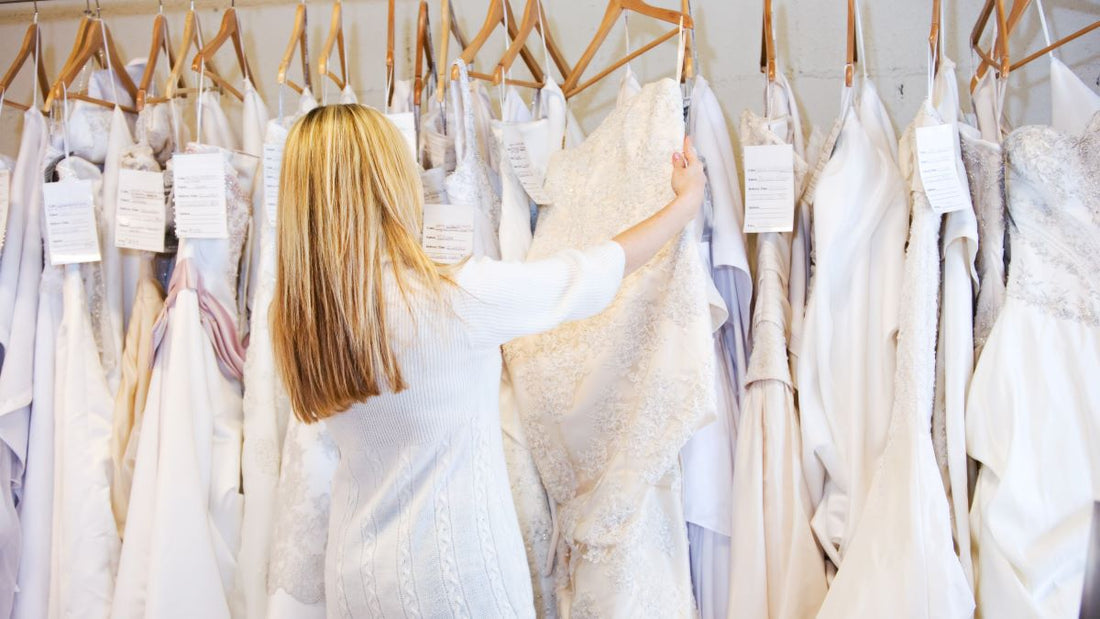 Wedding is the most precious day in everyone's life, and girls are more conscious about their wedding dresses. However, the Wedding day is bygone, and the most anticipated day is over. Now it's time to clean your dress. Sadly, many brides only wear their dream wedding gown once, but whether you want to donate, preserve, or are still undecided, you will need to clean your gown.

Moreover, giving your bridal wedding dress to dry cleaners is the easiest option for so many brides, but it can cost from $200 - $300. However, if you have a low budget and you don't want to give your gown to the cleaner, don't worry; you can clean it yourself at home. Keep reading for our full breakdown of how you can wash your dress at home.
How to Clean Wedding Dress at Home? Step by Step Guide
You can easily wash your precious dress on your own if it is made of polyester fabric and lining. Here's the DIY guide to wedding dress stain removal and the best ways to wash your bridal gown at home.
1. Treat With the Stains
If you don't want to dryclean wedding dress, you can avail the other options. Check the dress carefully for any stains, and consider what caused the stains. Also, make sure you have all the cleaning supplies ready before you start. Look at the bottom edge of the dress, called the hemline. If you didn't lift your skirt and carry your train all the time on your wedding day, the train (the long part of the dress) will likely be dirty.
As your dress consists of so many layers of fabric so, inspect them one by one. It will be good to see a little stain on any layer. Watching every element of your attire will help you recognize what needs to clean so you can plan accordingly.
2. Soak the Dress in the Bathtub
When you follow this step, make sure to keep the body of your dress out of the water. You should clean your bathtub and then use warm, soapy water to soak the hem of your dress for a couple of hours.

Moreover, while cleaning wedding dress, use liquid detergent to massage the hemline clean. Remember not to scrub too forcefully on lace or trims and wash the underside of the cloth and lining as well. After you finish cleaning the hem, ensure to rinse it thoroughly.
3. Protect your Dress Work Area
Put a clean sheet on the floor of your washing area to protect the dress while you wash wedding dress. Using a clean cloth made of white cotton sheeting or muslin is a good idea until you use a brand-new or freshly cleaned iron.


Press the train's back and bottom first, and continue until you feel comfortable in the process. Take your time and be careful while doing it. Once you finish, your gown will be ready for preservation. You should first wash and dry your ironing board cover to remove any dirt, starch, or sizing.
4. Make Use of Soft Brushes
Remember to use soft brushes in any area with extra dirt or stains during the cleaning wedding dress. You can use it as simply as you get the toothbrush from the drugstore.
To clean your wedding gown effectively, work through it in sections, which will help you keep track of the cleaned areas.
Be careful when dealing with delicate fabric and embellishments; avoid over-scrubbing to prevent damage. If the gown still appears unclean after the initial soaking and scrubbing, repeat the process once more. Being gentle and patient during cleaning will ensure your gown stays in good condition.
5. Dry It Out
When you wash wedding dress, be sure it's completely dry. Hang it on a drying rack or in a dry area with a towel underneath to catch any dripping water. Avoid hanging it in the bathroom as it tends to be a place with a lot of moisture, and the gown must be fully dry to prevent mildew or stains when you put it in its garment bag or storage container.
6. Keep in a Cool Place
Once your wedding gown is cleaned and completely dry, store it in a backpack or a container that won't cause any staining over time. If you want any extra protection, you can add newspaper in between the layers of the dress to avoid any creasing.
As we all know, wedding gowns are quite heavy, so avoid hanging them on wood or wire hangers that might change their shape. You should find a dark space with a regulated temperature, such as a closet or under the bed, to keep your gown safe and well-preserved.
How to Clean a Wedding Dress Professionally?
If your wedding dress is delicate and has well-crafted work like embroidery and lace, it's best to go to a professional cleaner. They have the expertise to clean it properly without risking any damage, as they know how to handle such dresses appropriately. They won't try any risky methods on your gown and will ensure it stays safe during cleaning.
Now the question is how you will find a professional cleaner to dryclean wedding dress. The simple method is you should read the online reviews. When you see what people say about that particular service company, you'll have an idea of whether to go there or not. If you are still confused, you can consult with your friends and family members who recently cleaned their gowns with good experience.
Moreover, the other option is reaching out to a bridal boutique from where you bought your Pakistani bridal dress because they have the list of recommended vendors. The reason for washing your dress professionally is that it will remain in good condition for years. This tends to be costly, but expert preservationists will take care of your wedding dress by cleaning it, fixing any problems or damages, and carefully packaging it for safe storage over a long time.
Read More: A Guide to Exquisite Wedding Dress Embellishments
In Summary
Hopefully, you understand very well how to wash a traditional wedding dress. Cleaning a bridal gown is not like child' play it requires careful attention to detail to maintain its beauty and ensure it remains in excellent condition for years to come.

Although many prefer to dry clean their wedding dress because it can be tricky to dry-clean a wedding dress at home, some may be suitable for home-cleaning, but it depends on the fabric and construction.
Additionally, if you're unsure about how to clean a wedding dress, it's always best to consult a professional cleaner. They will guide you properly on what should you do or don't. So, take care of your valuable dress because it will always remind you of your big day.