USA Top Pakistani Clothing Brands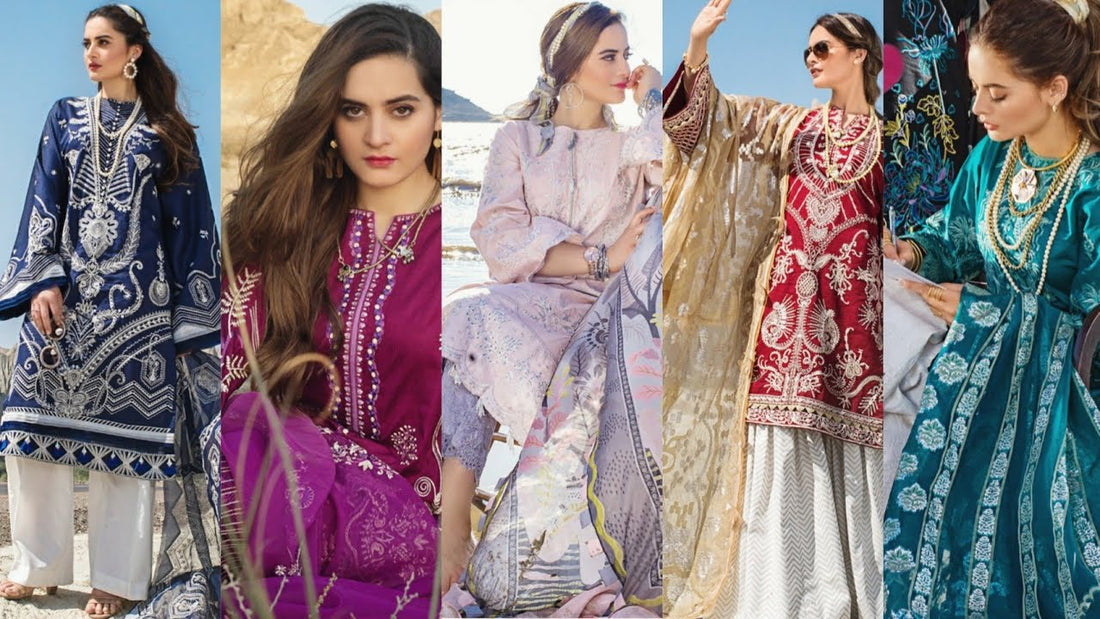 Living in the US and adopting Pakistani styles can be the choice for styling enthusiasts and fashionists. Are you someone who is living in the US and looking for the best clothing online stores to buy Pakistani dresses? If yes, then you are at the place. We will discuss the best stores from where you can shop online.
Pakistanis living in the US, shopping online can help maintain a strong connection with their homeland. These stores often carry products deeply rooted in culture, traditions, and heritage, which can be a nostalgic and comforting experience. So, what are you waiting for? Let's quickly jump into the USA's top Pakistani clothing brands that can make your every living stylish yet comfortable.
USA Top 5 Pakistani Online Clothing Stores
| | | |
| --- | --- | --- |
| Brand Name | Location | Specialization |
| String n Thread | USA | Diverse Pakistani fashion |
| Salai Shop | USA | Pakistani designer wear |
| Shireen Lakdawala | Pakistan & USA | Fusion of eastern & western |
| House of Huda | Pakistan & USA | Trendy and glamorous wear |
| Salai Karai | Pakistan & USA | Range of Pakistani attire |
String n Thread
String n Thread can be your one-stop destination because it is the best online store to buy clothes! We take immense pride in offering an exquisite collection of over 50 renowned brands at your fingertips. Our user-friendly website ensures a seamless shopping experience, allowing you to explore a myriad of best-selling dresses from top-notch designers like Khaadi, Maryum N Maria, Mohsin Naveed Ranjha, and many others.
At String and Thread, we embrace diversity and celebrate cultural brilliance through our fashion curation. Our exclusive blend of Pakistani and American aesthetics promises to captivate your style senses like never before. From traditional elegance to contemporary chic, we have something special for every fashion enthusiast. String and Thread is the best Pakistani mens clothing store and women's store.
Indulge in the magic of cultural amalgamation with String n Thread. Begin your sartorial journey today and embrace the charm of USA online clothing stores. Happy shopping!
House of Huda
Website: https://houseofhuda.com/
Phone: +18322487242
Email: houseofhudatx@gmail.com
Looking for captivating online shopping clothes USA? Look no further than House of Huda, your go-to destination for all things glamorous! As a leading brand, they pride themselves on curating a stunning collection that reflects elegance and sophistication. Their dresses are crafted with utmost care and style, from trendy ensembles to timeless classics. House of Huda covers you on a special occasion or a casual affair. Embrace fashion that speaks volumes, and shop confidently at House of Huda - where dreams of style come true!
Salai Karai
Website: https://salaikarai.com/
Phone: +1 505 6336814
Email: support@salaikarai.com
At Salai Karai, they believe every woman deserves to embrace her distinct style. They pride themselves on offering an exquisite range of Pakistani designer clothes online. Their carefully curated collection showcases the rich tapestry of Pakistani fashion, from traditional ensembles to contemporary masterpieces. Each outfit is thoughtfully crafted to accentuate your individuality and radiate elegance.
With Salai Karai, you can effortlessly explore a world of fashion that resonates with your unique taste. Whether seeking ethnic charm or modern chic, this online shopping clothes USA caters to all your fashion desires. Discover the artistry of Pakistani designers and indulge in a fashion that reflects your true essence only at Salai Karai.
Salai Shop
Website: https://salaishop.com/
Phone:

516 942 8100

Email: sales@salaishop.com
The best online store to buy clothes, the Salai shop is on a mission to introduce the United States to the mesmerizing world of South Asian culture. They proudly showcase Pakistan's top brands, featuring names like Gul Ahmed, Sana Safinaz, Khas, Maria B, Warda, Bonanza/Satrangi, and more. You will get a captivating range of elegant clothing, from traditional ensembles to contemporary designs.
Customers are in for delightful surprises with regular treats, making the shopping experience even more special. With a celebrity clientele befitting their reputation as the "Bloomingdales of Pakistan," you can trust their commitment to unmatched quality and style. Embrace the richness of South Asian culture with Salai Shop - your ultimate fashion destination!
Shireen Lakdawala
In the vibrant fashion world, Shireen Lakdawala stands as a renowned name in Pakistan and Dallas, Texas, USA. Her passion for blending Eastern and Western aesthetics led her to create her label in 2005.
Over the years, Shireen has crafted a distinct identity, attracting a diverse clientele from Pakistan and the USA. With unwavering trust, clients have adorned themselves in Shireen Lakdawala's formal, bridal, and casual attire for over a decade.
Embodying creativity and elegance, Shireen Lakdawala continues to weave a fashion legacy that transcends borders and captivates hearts.
Final Words
Finally, you've learned about the best clothing online stores. Online shopping has emerged as a game-changer for overseas Pakistanis, revolutionizing how they connect with their roots and embrace their cultural identity. The Pakistani clothing industry has made remarkable strides in the United States, bringing forth a rich tapestry of cultural brilliance and sartorial elegance. Among the many top brands, String, and Thread undoubtedly shines as the epitome of excellence. Embrace the magic of Pakistani-USA fashion fusion, indulge in a seamless shopping experience on their user-friendly website, and elevate your style to new heights. Choose String n Thread as your ultimate fashion destination and step confidently into a world of elegance and sophistication.
Learn More: Elevate Your Wardrobe with Pakistani Salwar Kameez
FAQs
Are the clothing sizes available for all body types?
Yes, all Pakistani clothing store strives to offer a wide range of sizes to accommodate various body types and preferences, ensuring their clothing is accessible to a broader customer base.
What are the shipping and delivery options for online orders?
Brands like String and Threads likely provide various shipping and delivery options for online orders, such as standard shipping, expedited shipping, and international delivery for customers outside the USA.
Do the brands offer any discounts or promotions?
The brands may offer seasonal sales, discounts, and promotions to offer customers attractive deals and incentives to shop from their collections.