What to Wear to a Bridal Shower? Pakistani Bridal Shower Guest Outfit Ideas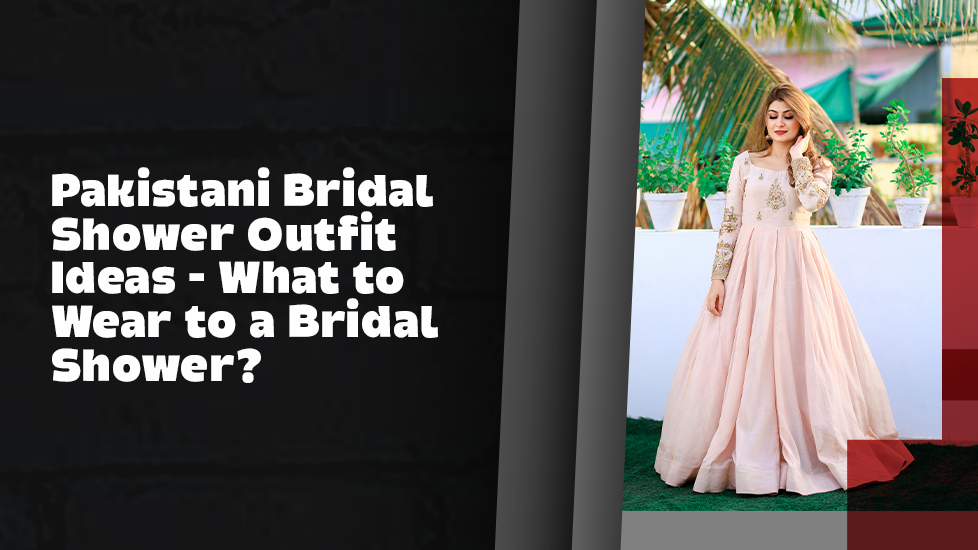 A Pakistani bridal shower offers a perfect blend of traditional and modern styles, making it an exciting event for any bride-to-be. Choosing the right outfit is just as important as planning the perfect party. With so many options available, it can be overwhelming for the bride-to-be to find the perfect outfit. Therefore, we have put together a guide to help you find the perfect bridal shower dresses for guest and brides for your bridal shower. Whether you prefer an elegant gown or a trendy jumpsuit, we have got you covered with the latest styles and fashion tips.
Let's explore the world of Pakistani bridal shower outfits and make your bridal shower worth remembering!
Bridal Shower Guest Outfit Ideas: The Traditional Charm
Pakistani culture is deeply rooted in tradition, and many brides choose to embrace this by wearing a traditional ensemble for their bridal shower. An elegant and timeless choice is the classic Shalwar Kameez in soft pastel shades or a pristine white. Pair it with intricate embroidery or delicate embellishments to add a touch of sophistication. A contrasting dupatta and some statement jewelry can complete the look.
The Modern Twist
For those brides who want to add a modern twist to their bridal shower attire, an Anarkali gown or a long frock-style dress can be the perfect choice. Opt for contemporary silhouettes with trendy cuts and unconventional color palettes. Embellishments like sequins, mirror work, and lace can add that extra sparkle.
The Fusion Fusion Ensemble
Fusion fashion is all the rage in Pakistani bridal showers and bridal shower guest outfit. It involves combining traditional elements with a modern flair. One popular fusion outfit is pairing a lehenga skirt with a western-style blouse. The contrast of the conventional and contemporary creates a unique and eye-catching look. Remember to accessorize with statement earrings and heels.
The Floral Fantasy
Floral prints and patterns have made a comeback in Pakistani fashion, and they are perfect for a bridal shower. A floral print saree or a flowy floral maxi dress can make you look effortlessly chic and in tune with the season. Complement your outfit with fresh flower accessories, and you'll be a vision of natural beauty.
The Guest's Guide
If you're attending a Pakistani bridal shower as a guest, the key is to strike a balance between dressing elegantly and not overshadowing the bride. A simple, well-fitted Anarkali suit or a saree in muted tones can be a safe and stylish choice. Accessorize Pakistani party dresses with understated jewelry and a matching clutch to complete your look.
Latest Color Trends
Pastel Hues
Soft pastel shades like blush pink, powder blue, mint green, and lavender continue to dominate the bridal shower scene. These colors evoke a sense of romance and elegance, making them ideal choices for a memorable event.
Bold and Vibrant Tones
Vibrant colors such as royal blue, emerald green, deep red, and maroon are gaining popularity for brides who want to make a statement. These bold hues can infuse energy and drama into your bridal shower outfit.
Neutrals with a Twist
Neutral colors like ivory, beige, and champagne are timeless classics. However, modern brides and bridesmaids add a twist by incorporating metallic accents or subtle shimmer to elevate the sophistication of their winter bridal shower dress.
Hairstyles and Makeup Tips
When preparing for your Pakistani bridal shower, it's essential to pay attention to your hairstyle and makeup to achieve a radiant and photo-ready look. Here are some ideas and tips to help you look your best on this special occasion.
Hairstyle Ideas to Complement Outfit Styles
Traditional Elegance
For traditional outfits like Shalwar Kameez or Anarkali suits, you can also shop Maria B Collection. Consider classic hairstyles like a sleek bun adorned with floral accessories or a traditional puff with loose curls.
Modern Chic
If you're wearing a contemporary gown or fusion outfit, opt for trendy hairstyles such as side-swept waves, a half-up, half-down look with loose curls, or a stylish ponytail with volume.
Fusion Glamour
Fusion dresses to wear to bridal shower offer the opportunity to get creative with your hairstyle. Try a braided updo with loose strands for a boho-chic look or a messy bun with statement hairpins for an edgy twist.
Makeup Tips for a Radiant Look
Flawless Base
Begin with a good skincare routine and use a primer to create a smooth canvas for makeup application.

Choose a foundation that matches your skin tone perfectly and blend it well to achieve a flawless finish.
Accentuate Your Eyes
Along with the best

Pakistani wedding attire for guests

, desi marriage events also

focus on the eyes. Consider using earthy or smoky eyeshadow shades to enhance your eye color.

Invest in high-quality eyeliner and mascara for a defined and alluring gaze.
Blushing Beauty
Apply blush to add a natural flush to your cheeks. Choose a shade that complements your outfit and skin tone.
Lips that Pop
Bold lips can make a statement. Opt for classic reds, deep berries, or soft pinks, depending on your outfit and preference.
Long-Lasting Makeup
Use a setting spray to ensure your makeup stays fresh throughout the event.

Carry a touch-up kit with essentials like blotting paper, lipstick, and powder for quick fixes.
Let's Wrap Up
In Pakistan, bridal showers are a time for making cherished memories and celebrating the bride's journey to her wedding day. As a visitor, bridal shower outfit ideas guest plays a significant role in making the event even more special. Whether you opt for traditional grace, modern flair, fusion fashion, a floral touch, or a guest-appropriate ensemble, remember that confidence is the best accessory. Choose an outfit that reflects your personality and makes you feel beautiful, and you'll be ready to shine at any Pakistani bridal shower.
These outfit ideas can help you stand out and make a lasting impression at the next bridal shower you attend or host in Pakistan.