Lehenga Vs Saree - What's the Difference?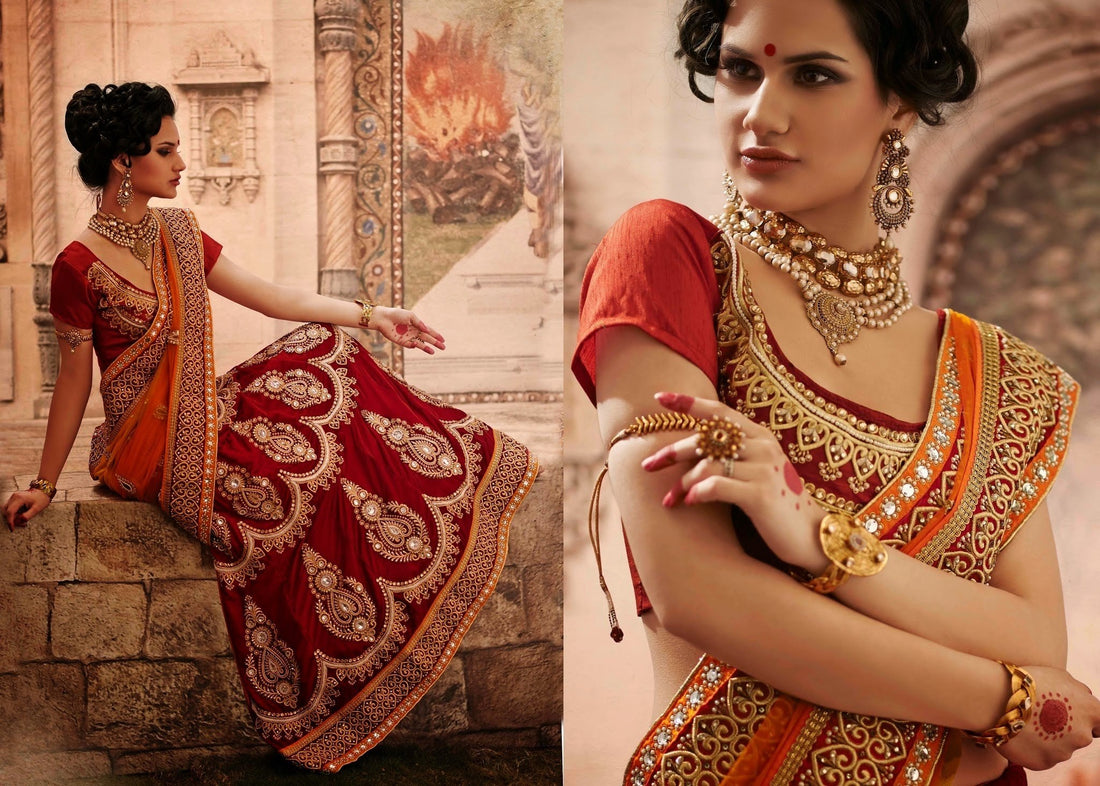 Do you know why girls love to wear lehengas and saree? Well, it is because these are the most notable traditional attires widely worn on special occasions. Furthermore, most women like to debate lehenga vs saree, which helps a woman to make outfits more beautiful, elegant, and stylish.
Asian Women love to follow the traditions and society's culture. Understanding the difference between a lehenga and a saree is crucial for those who love to wear traditional outfits for special events or occasions. These outfits keep a special place in our hearts as girls are shopping lovers, so they can't ignore trying new styles and designing in sarees and lehengas.
Like other people, you're also trying to know these differences too. But now, don't worry because, In this guide, you'll see the wedding dress trends, that will assist you in choosing the right outfit for your upcoming special events.
Let's start!
What is a Lehenga?
People consider Lehenga a Ghagra Choli a traditional attire with a long skirt, a blouse, and a dupatta or a scarf. It's a girl's favorite outfit because they look stylish in lehengas. The dress is typically elaborated with complex beads, sequins, or embroidery and can be made of various fabrics such as chiffon, cotton, or silk.
Whatever design you choose, there are many options in blouse and choli, such as full sleeves, sleeveless, or half sleeves, depending on the method. The dupattas come up like a long scarf you can drape over the head or around the neck and are often embroidered or embellished to match the lehenga. Lehenga is a most-wanted choice for weddings, festivals, and other formal occasions and is worn by women of all ages worldwide.
What is a Saree?
A Saree is also a traditional dress wrapped around the body and worn by women. It is based on a massive piece of fabric, typically six to nine yards long, wrapped nearly the waist and cloaked over the shoulder. Most women feel comfortable wearing a saree, usually paired with a blouse and a dress, a long underskirt that supports the saree.
You don't need to worry about color, design, and style because you can get various options. They can be made of silk, cotton, chiffon, or other materials and are often embellished with embroidery, sequins, or other decorative elements. How a saree is draped can also vary depending on the region, with different styles and ways used in various areas of the country.
Most girls prefer wearing a simple saree lehenga at weddings rather than heavy dresses. They are considered a symbol of culture and are a favorite choice for women of all ages.
Look at the Difference Between Lehenga and Saree
Which is more elegant, the saree or the lehenga? Both indicate culture and religion. Ladies rush to cherish an ornate saree vs lehenga no matter what occasion. Both are different. So, let's break the suspense and dive into knowing how lehengas and sarees differ from each other.
1. Pattern & Style
A saree is based on a long piece of fabric around the body and consists of a blouse, dress, and the saree itself. In contrast, a lehenga contains a long skirt, a blouse, and a dupatta or scarf.
Girls want to select a heavy blouse full of embroidery and a dress is elaborately designed to match the shirt. The dupatta is draped over the head or neck and often embellished to match the lehenga. Alternatively, a saree has a more straightforward design, focusing on how it is draped and the blouse accompanying it.
2. Easy to Wear
Carrying a lehenga is like eating a cupcake, while sometimes sarees can be challenging to wear and require considerable skill and practice to drape correctly. You'll need up to 30 minutes to wear a saree properly.
As opposed to that, a lehenga is easier to wear as it is a pre-stitched garment that requires minimal effort. The blouse and skirt are already attached, and the dupatta can be covered over the head or around the neck, making it a more practical option for those needing to wear sarees better. Whenever you search for online Pakistani wedding dresses, you will get the results of unique sarees, lehengas, and other heavily embroidered gowns.
3. Visions
The other difference between a lehenga vs saree is that the lehenga hides the area under the navel completely, and there will be the upper portion shown in a Choli. In contrast, sarees are more exposing than lehengas and give you a fascinating look.
4. Length also Matters
Regarding the sari vs lehenga, length matters a lot. There is a noticeable difference between lehenga and saree. A lehenga can vary in length and depends on the wearer's height. However, the size of the dupatta, which looks like a vast scarf-like structure draped over the head and shoulders, is usually fixed at 2.5 yards.
In contrast, a saree is a much longer garment that remains fixed in its size. Doesn't matter wherever you want to go; you will get that a saree usually is 5.5 meters long.
5. Shape
The shape of the saree vs lehenga is different from each other. A saree hugs the curves of a woman's body, creating a bodycon look for the person wearing it. On the other hand, a lehenga is usually A-line shaped, although some have a mermaid shape. Today, designers constantly experiment with these two traditional attires, creating unexpected modifications to their forms.
Sum Up
Are your concepts clear on what is a lehenga or saree? Saree can be worn at weddings, significant events, and everyday events. Lehenga is usually worn at weddings and important events.
Choose lehenga vs saree, whatever suits your look and body. Not everything suits everybody, so pick up those who feel more comfortable and confident. It entirely depends on personal choices.
If you need clarification about the saree lehenga, we expect this guide has helped you. You can find many beautiful styles and designs of these dresses. Select what fits you best and consider adding them to your wardrobe.
Check out our latest pakistani wedding dresses collection at stringnthread.