Top 10 Pakistani Men's Clothing Brands in USA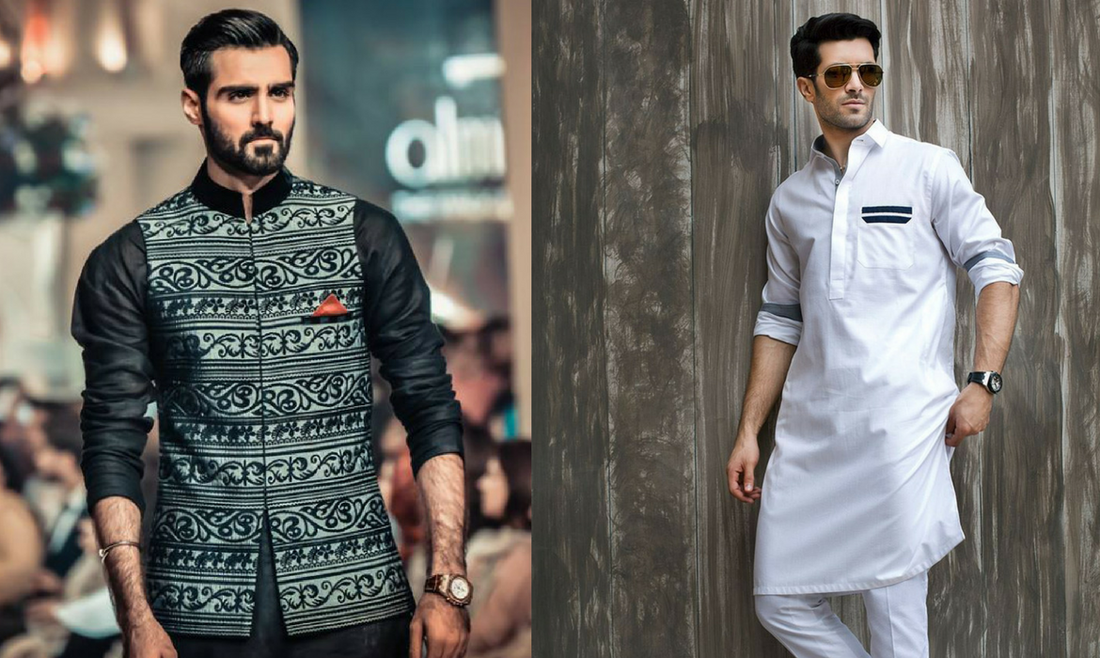 Are you someone living abroad who loves Pakistani fashion and wants to add a touch of cultural flair to your wardrobe? If your answer "yes," you've come to the right place. Keep reading!
The fashion industry in Pakistan is hitting new heights. The trend is not limited to women anymore! Men are also embracing the art of dressing up in style. Wearing classy and fashionable clothes reflects self-confidence and a pretty appearance. Moreover, it has become a way of expressing oneself confidently.
Pakistani clothes for men have consistently pushed the boundaries of elegance and class. It has given rise to an array of patterns and trends that cater to the unique choices of modern men. From traditional ethnic wear to contemporary Western outfits, Pakistani men have multiple options for dressing.
In this blog, we'll look at Pakistan's top ten brands for men's clothing in USA that can help you make a lasting impression on any festive occasion. Let's begin!
Top 10 Best Pakistani Men's Clothing Brands in USA
Amir Adnan

Bonanza Satrangi

Edenrobe

Gul Ahmed

Junaid Jamshed

Khaadi

Nishat Linen

Outfitters

Sapphire

Levis
1. Amir Adnan
Amir Adnan is a well-established brand in Pakistan. Over three decades of experience, the brand has become synonymous with top-quality and stylish menswear. The wedding sherwanis, shalwar kameez, and waistcoats of the brand are renowned for their impeccable thoroughness in their designs.
One of the most notable features of this is its customization tailoring service. Customers can provide their design samples and have them crafted to their precise specifications. This personalized approach to fashion has made the brand highly liked among discerning customers who demand a unique, bespoke style. Amir Adnan is undoubtedly the go-to choice for men who wants the best in fashion because of his impeccable skills.
2. Bonanza Satrangi
Bonanza Satrangi is a highly-rated men's fashion brand offering affordable traditional and modern ranges. The clothing is made of high-quality cotton, resulting in slightly different prices based on your fabric choice. You can get various items, including Shalwar Kameez, kurta, shirts, and pants, tailored to your preferences and matching requirements.
The brand's clothing is available in various colors and designs, making it easy for customers to find something that matches their style. Bonanza Satrangi is a brand that offers exceptional value for money, combining high-quality fabrics with affordable prices. Whether you're looking for traditional or modern clothing, you will find something that fits your needs and budget at Bonanza Satrangi.
3. Edenrobe
Edenrobe is a famous men's clothing brand in Pakistan, offering diverse clothing options. One of the most impressive aspects of Eden Robe's clothing is the high-quality fabrics used in its production. This results in great clothing and maintains its elegance and durability over time.
To find your favourite Shalwar Kameez or Kurta designs, visit us or check out on our website. With its impressive clothing range and commitment to quality and customer satisfaction, Eden Robe is a top choice for men's clothing in Pakistan.
4. Junaid Jamshed
Junaid Jamshed, popularly known as J. is one of the most well-known clothing brands for men in Pakistan. The brand offers a comprehensive range of apparel in both Eastern and Western styles, including stitched and unstitched lines. If you are looking for Pakistani clothes in USA J. can be the best choice.
One of the standout offerings from Junaid Jamshed is its collection of Shalwar Kameez, premium Kurtas, and waistcoats. Customers can choose from a range of soft hues, dark enigma colors, and soft neutral colors, ensuring that something suits every taste and occasion. So whether you're looking for a traditional Shalwar Kameez or a more contemporary Western outfit, Junaid Jamshed has something for everyone.
5. Gul Ahmed
Gul Ahmed has genuinely captured the essence of our ethnic culture in every design of their clothing. In a society where men are often restricted to wearing darker colors, Gul Ahmed stands out by incorporating many colors in their men's wear collection. Whether you prefer brighter hues or softer tones, Gul Ahmed has something for every fashionista.
One of the most attractive features of this versatile men's clothing brand in Pakistan is the regular sales that offer discounts of up to 70% off on their products every season. This allows customers to purchase stylish shalwar kameez, kurtas, bags, shoes, accessories, and bedding items at affordable prices.
6. Khaadi
Khaadi is a renowned clothing brand in Pakistan that has gained immense popularity. Khaadi has also made a remarkable impact in the fashion industry, as its clothing is frequently featured in Pakistani drama serials and advertisements, adding to the brand's credibility and status.
Despite its high fashion appeal, Khaadi offers reasonable prices, further reduced during seasonal mega sales. This has made it a go-to choice for men who aspire to look classy and stylish without breaking the bank.
7. Nishat Linen
If you want to make a fashion statement with your ethnic wear, Nishat Linen is the perfect choice. With their extensive range of stitched and unstitched clothing lines for men, you can choose a dress that best suits your refined taste.
Nishat Linen is known for its ever-changing and wide range of new designs. If you are looking for traditional shalwar kameez or a more modern suit, Nishat Linen covers you. Why settle for a basic outfit when you can boost your styling sense with Nishat Linen's exquisite collection?
8. Outfitters
If you're on the hunt for the perfect western wear for men, Outfitters is the brand you need to explore. Outfitters is the ultimate essence of youth fashion in Pakistan. With almost two decades of experience, this brand continues to bring the most outstanding pieces, setting new trends every season.
The brand offers the most fascinating, edgy, and voguish clothing items, including t-shirts, pants, sweaters, pullovers, jeans, footwear, cardigans, and more. Outfitters has earned the reputation of being the top online clothing brand for young men in Pakistan. From clothing to footwear, everything is reasonably priced, making it accessible to everyone.
9. Sapphire
Sapphire is a brand that truly understands the importance of family traditions and values. That's why they've introduced their 'Like Father Like Son collection, which has become a super hit among their customers. The outfits range from traditional kurtas and waistcoats to modern-style bottoms, ensuring something for everyone.
So, if you're looking for coordinated outfits for you and your son, Sapphire's 'Like Father Like Son collection is worth exploring. With their focus on quality and attention to detail, you can be sure you'll look and feel your best.
10. Levis
Levis Pakistan is the ultimate choice for long-lasting clothing that endures wear and tear. The brand stands out for its complimentary tailoring service, ensuring a perfect fit for every customer.
Although high-quality denim comes at a higher cost, it's worth the investment as it guarantees longevity without damage or fading. Keep an eye out for seasonal sales to snag the best deals.
Read More: Different Types of Traditional Pakistani Clothing
Let's Wind Up
We hope you had a good read. Pakistani men's clothing brands in USA serve all preferences, from traditional wear to modern, sleek designs. The 10 brands mentioned in this blog represent the best of Pakistani men's fashion and offer modish and affordable clothing.
Choosing one outfit can be challenging. Just Relax! Because String and Thread is the brand to check out if you're looking for premium-quality men's clothing. Whether you're looking for traditional wear or modern styles, String and Thread has got you covered. So, visit us today and explore our collection to upgrade your wardrobe with the latest fashion trends.