Top 10 Famous Lawn Brands of Pakistan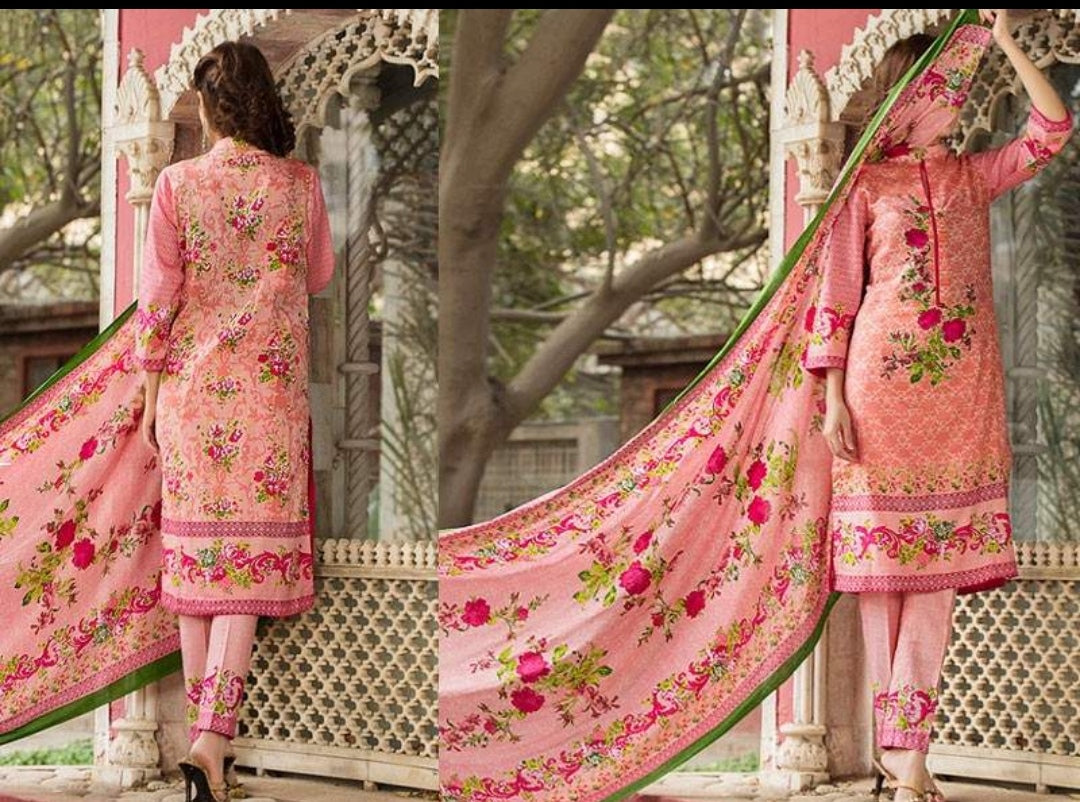 It's that exciting time of the year again when the Pakistani fashion industry unveils its stunning lawn fabric designs, leaving you drooling. Summer is the season of new beginnings for fashionistas. We all know that outfits manufactured from lawn fabric are the basic need of the summer season. In fact, this is the right time to explore your true fashion. In addition, lawn, a lightweight cotton fabric, has become an essential component of Pakistani fashion, especially during the hot and humid summer.
Lawn popularity has led to the emergence of numerous lawn brands in Pakistan. Every brand offers unique styles and designs that make you want to grab them all. From the traditional to the contemporary, these brands cater to the diverse style tastes of consumers worldwide. Explore some top-tier lawn brands in Pakistan. These brands are budget-friendly. So, let's explore and find out which brands can reveal your hidden glow.
1. EGO
Ego is a women's wear clothing lawn brand that has gained immense popularity in Pakistan, especially among overseas Pakistanis. The brand offers contemporary and trendy clothing that caters to the fashion needs of modern women. Furthermore, Ego's clothing line includes a variety of stylish kurtas, tops, bottoms, and accessories. All these things are perfect for formal and casual wear.
However, String n Thread has made online shopping easily accessible. We allow overseas Pakistanis to purchase their favorite outfits from anywhere.
Click Here And Shop Your Favorite Lawn Outfit!
2. Gul Ahmed
Regarding Pakistani fashion, one name stands out from the rest - Gul Ahmed. It offers a vast collection of quality clothing products, including lawn collections. Due to their exceptional quality and unique designs, Gul Ahmed's lawn collections have become very popular in Pakistan and the US. They offer lawn collections that are highly in demand and a must-have for every wardrobe.
In recent years, Gul Ahmed has expanded its products to include men's clothing, home textiles, and accessories, further solidifying its position as a game-changer in the industry for decades.
3. Maria B
Maria B is one of the top fashion brands offering modern and fashionista clothing. It is a well-known Pakistani outfit lawn brand that has significantly impacted the fashion industry. With a focus on delivering high-quality apparel, this brand has consistently been in the designer lawn market since 1999.
The brand's strong advertising campaigns, often featuring celebrities, have contributed to its popularity among consumers. In addition to its simple printed designs, Maria B also yields luxurious lawn formals that are perfect for any spring or summer occasion. The brand has curated a versatile lawn collection that can be a stylish alternative to formal wear during the hot summer.
4. Khaadi
Khaadi, a versatile Pakistani clothing brand, has established itself as a pioneer in the lawn outfit market. This brand offers a range of lawn outfits, from casual to formal wear. Khaadi lawn collections are in vibrant colors, intricate embroidery, and beautiful prints. This unique fusion has attracted customers worldwide, especially overseas Pakistanis in countries like the U.S.A, UAE, UK, Canada, etc. Khaadi has become a popular choice among these communities due to its ability to cater to their fashion needs.
The brand's lawn outfits are made with high-quality fabric that is comfortable to wear in hot and humid weather. Overall, their commitment to providing low-cost elite lawn Pakistani suits encourages women to make Khaadi their go-to brand as they offer stylish and comfortable clothing.
5. Sana Safinaz
Sana Safinaz is a famous Pakistani fashion brand with a reputation for its distinctive designs, exceptional quality, and timeless appeal. The brand's exquisite designs and attention to detail have made it a favorite among fashion enthusiasts who appreciate high-end style.
During the summer, Sana Safinaz's lawn collections are particularly noteworthy. They feature carefully chosen color combinations and intricate digital prints that complement the overall theme of the ensemble. The brand's commitment to quality and aesthetics has earned it a place among Pakistan's top 10 lawn brands.
6. Salitex
Salitex is a renowned Pakistani brand in Pakistan that launch a diverse variety of clothing options for men, women, and children. Despite providing splendid products, Salitex maintains cost-effective prices. The brand ensures that its clothing is accessible to everyone, regardless of budget.
Salitex pitch a premium lawn collection in stitched and un-stiched collections every summer. Apart from this, their outfits will keep you cool and comfortable in the scorching heat without compromising on style and fashion. So, if you're looking for stylish, socially responsible clothing, Salitex is the brand for you.
7. Zara Shahjahan
Zara Shahjahan is a household name that grants a wide array of luxury lawn outfits. This brand's collection is designed for women who want to look their best at all times, and their array of luxury lawn outfits is perfect for wedding events like mayon and mehndi. Also, her sub-brand, Coco by Zara Shahjahan, embodies the same aesthetic and delivers versatile prints perfect for day or evening wear.
The luxurious fabrics and intricate embroidery on Zara Shahjahan's best lawn collection exude elegance and class, making them the perfect choice for formal occasions. Furthermore, the brand serves many options, including stunning dresses, stylish separates, and elegant, perfectly crafted gowns.
So, if you want to make a fashion statement at your next wedding event, look no further than Zara Shahjahan's luxurious lawn outfits.
8. Cross Stitch
In Pakistan's ever-evolving women's clothing market, Cross Stitch stands out as a trendy option for stylish lawn clothing. The brand's bold colors and playful patterns have made it particularly popular among the younger demographic, including female college students.
Despite its competitive pricing, Cross Stitch delivers on quality, making it a desirable brand among fashion-conscious consumers. Overall, Cross Stitch delivers a unique blend of affordability, style, and quality that sets it apart from other lawn brands in Pakistan.
9. Lakhany By LSM
The Lakhani's Lawn Collection features a variety of stylish and comfortable lawn suits that are perfect for the summer season. Hence, the collection provides a diverse range of designs and colors. It means every girl has the freedom to choose according to her preferences.
The lawn suits are made from high-quality fabric, providing excellent comfort during the hot summer. The material is also breathable, making it ideal for outdoor activities. So, if you are going out for a lunch date or want to attend a formal event, outfits by LAKHANY can be your final destination.
10. Crimson
Crimson is a sought-after high-street fashion brand in Pakistan that has become renowned for its collaborations with the country's top designers. Moreover, the brand's success is mainly due to its unwavering commitment to premium quality fabrics, up-to-date designs, and intricate embellishments.
In addition, despite its high-end reputation, Crimson has made its apparel accessible to women across. They offer affordable pricing without compromising style. Using modern technologies to weave the finest fabrics, Crimson produces apparel that suits Pakistan's climate and fashion trends. So, whether you're looking for a chic outfit for a special occasion or a comfortable yet stylish outfit for everyday wear, Crimson is there for you.
Read More: The Best Pakistani Designers to Try
In a Nutshell!
Pakistan's lawn industry has undergone a massive transformation in recent years. Furthermore, that's because of the emergence of numerous high-end lawn brands in Pakistan. Each brand delivers unique styles, fabrics, and designs that cater to diverse tastes and preferences.
From Maria B to Khaadi, Sana Safinaz to Cross Stitch, and many more, the lawn brands on this list have earned a reputation for quality, style, and affordability. The ever-growing demand for lawn clothing in Pakistan is a witness to the enduring popularity of these brands.