Salwar Kameez Measurements Guide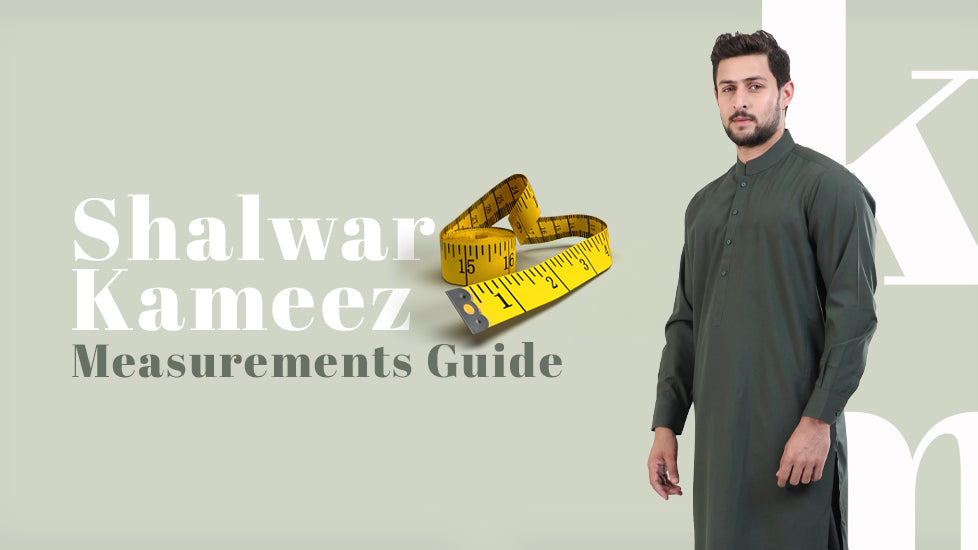 The salwar kameez is a traditional Pakistani outfit known for its elegance, comfort, and versatility. Whether you're buying a salwar kameez online or planning to stitch one at home, accurate measurements are crucial for a perfect fit. In this comprehensive guide, we'll delve into the world of salwar kameez measurements, drawing references from reputable sources. By following these guidelines, you'll be able to ensure that your salwar kameez fits you like a glove, regardless of your body shape or size.
Understanding the Basic Components
Before we dive into the specifics of measuring for a salwar kameez, let's understand the essential components of this outfit:
Kameez
The kameez is the top or tunic part of the salwar kameez. It can vary in length, from short to long, and its fit largely depends on your measurements.
Salwar
The salwar is the loose-fitting pants, often pleated, that provide comfort and ease of movement.
Dupatta
The dupatta is a long scarf-like piece of fabric that can be draped over the shoulders or used as an accessory.
Read More: All You Need to Know About Shalwar Kameez
Measuring for Your Salwar Kameez
Now, let's explore the measurements you'll need to ensure your latest salwar kameez designs fit perfectly:
Bust Measurement
Your bust measurement is crucial for determining the size of your kameez. To measure your bust, wrap a measuring tape around the fullest part of your bust while keeping it snug but not tight. Make sure the tape is horizontal and parallel to the ground. This measurement is essential for the kameez's chest and bust area.
Waist Measurement
There are many types of fabric for dresses available so we can say waist measurement doesn't rely on fabric type. The waist measurement is crucial for both the kameez and salwar. To measure your waist, wrap the measuring tape around your natural waistline, which is usually the narrowest part of your torso. Ensure the tape is snug but not tight.
Hip Measurement
For the salwar, your hip measurement is crucial. Wrap the measuring tape around the fullest part of your hips, making sure it's parallel to the ground. This measurement helps in determining the width of the salwar's hips and ensures a comfortable fit.
Kameez Length
The length of your kameez can vary depending on your personal preference, but a standard guideline is to measure from the shoulder to your desired length. For a more traditional look, the kameez typically falls a few inches above the knee or ankle length.
Salwar Length
The length of the salwar can be customized to your preference. Measure from your waist to your desired length, whether it's above the ankle or down to the floor. Make sure to add a few extra inches to accommodate for pleating.
Sleeve Length
While how to measure salwar kameez don't forget If you want sleeves on your kameez, measure from the shoulder to the desired sleeve length. This can be full sleeves, three-quarter sleeves, or any other style you prefer.
Neck Depth
The neck depth is a personal preference, but it's crucial to measure it accurately. Measure from the base of your neck to where you want the neckline of your kameez to be.
Shoulder Width
To determine the right shoulder width, measure from the end of one shoulder to the other. This measurement ensures that your kameez fits comfortably across your shoulders.
Armhole Measurement
The armhole measurement is important to ensure that your kameez provides ease of movement. To measure the armhole, wrap the measuring tape around your shoulder and underarm, creating a gentle curve.
Dupatta Length
If you plan to wear a dupatta with your salwar kameez, measure its length from one end to the other. The length can vary according to personal preference, ranging from shoulder length to ankle length.
Using Online Salwar Kameez Sizes Chart
To make the process of ordering a salwar kameez online easier, many websites provide size charts that can help you determine your size based on your measurements. These salwar kameez sizes chart typically include different size options, such as small, medium, large, and extra-large, with corresponding bust, waist, and hip measurements. By referring to these charts and matching your measurements, you can choose the perfect size for your salwar kameez.
Custom Stitching
If you prefer a more personalized approach, you can also opt for custom stitching. Many Pakistani dresses online boutiques offer custom stitching services. In this case, you can provide your measurements, and the outfit will be tailored specifically to fit you perfectly.
Blog Summary
The salwar kameez is a timeless outfit that can flatter any body shape when the measurements are accurate. By understanding the basic components of the outfit and following the guidelines for taking your measurements, you can ensure that your salwar kameez fits you perfectly. Additionally, utilizing online size charts or opting for custom stitching services from reputable providers like String & Thread can further enhance your shopping experience. So, whether you're a seasoned salwar kameez designs wearer or a newcomer, you'll be well-prepared to choose and wear this beautiful Indian attire with confidence.