All You Need to Know About Shalwar Kameez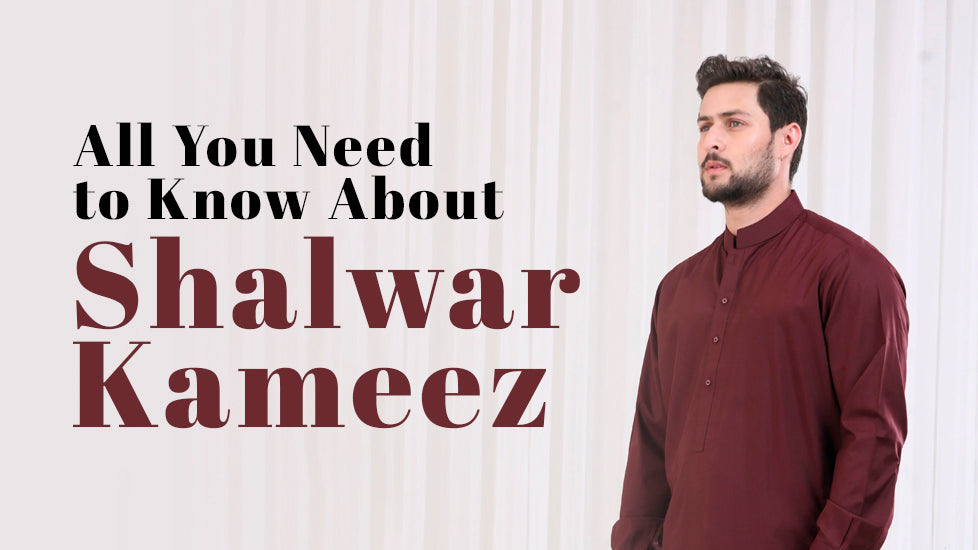 Are you curious about the traditional dress of South Asia? Look no further! The traditional salwar kameez is a combination dress worn by women and men in South Asia and Central Asia. The shalwar is a loose-fitting trouser that narrows at the ankle, while the kameez is a long shirt or tunic. The side seams of the kameez are left open below the waistline, which gives the wearer greater freedom of movement.
History of Shalwar Kameez
The shalwar kameez has been traditionally worn in a wide region, including Eastern Europe, West Asia, Central Asia, and South Asia. It indicates the salwar kameez history. It has been worn for centuries and has evolved over time to include various shapes, cuts, and collars that elevate your style.
In this blog, we will explore the importance of the shalwar kameez. We will also share tips on how to style it to give it a modern flare. So, whether you're looking for inspiration for your next outfit or just want to learn more about this beautiful ensemble, keep reading!
What is a Shalwar Kameez?
Shalwar Kameez, a traditional and elegant attire, boasts many types and variations that have evolved over the years. These variations not only add diversity to the wardrobe but also reflect the rich cultural heritage of regions where Shalwar Kameez is worn. 
Types and Variations In Shalwar Kameez
Here, we explore some of the most popular types and variations of this iconic outfit:
Anarkali Suit
Named after the legendary dancer Anarkali, this style features a long, flowing frock-style Kameez paired with fitted Churidar Shalwar. It's known for its graceful and regal appearance, often worn on special occasions like weddings and festivals.
Patiala Suit
Punjab, India, is the salwar kameez origin. This ensemble is characterized by a heavily pleated and baggy Shalwar, offering comfort and a distinct look. It is often paired with a short Kameez and a matching Dupatta.
Straight-Cut Suit
This style features a Kameez with a straight, vertical cut, giving it a modern and minimalist look. It's popular for casual and formal wear, offering a versatile option for various occasions.
A-Line Suit
The A-line Kameez narrows down towards the waist and flares out at the bottom, resembling the shape of the letter 'A.' This style is flattering for various body types and is often chosen for its graceful silhouette.
Palazzo Suit
Palazzo pants, wide-legged trousers, are paired with a Kameez in this contemporary style. Many Pakistani designers brands offer a fusion of traditional and modern fashion, known for its comfort and chic appearance.
Front-Slit Suit
This variation features a Kameez with a front slit, adding a touch of sensuality and contemporary style. It's popular for parties and formal events, allowing for easy movement.
Sharara Suit
Sharara pants are wide, flared trousers that pair with a short Kameez, creating a royal and vintage look. This style is often seen at traditional ceremonies and weddings.
Pakistani Shalwar Kameez
Known for its distinctive and intricate embroidery, Pakistani Shalwar Kameez often features long, straight Kameez and Shalwar with different styles of draping the Pakistani Dupatta.
Afghan Shalwar Kameez
With its unique blend of Afghan and South Asian salwar kameez styles, this variation includes loose, knee-length Kameez and loose-fitting pants. It's known for its vibrant and ornate embroidery.
These are just a few examples of the diverse types and salwar patterns. Each style carries its own charm and cultural significance, making Shalwar Kameez a versatile and timeless choice for a wide range of occasions and preferences. Whether you prefer a traditional look or a more contemporary style, there's a Shalwar Kameez variation to suit your taste.
Shalwar Kameez Fabrics 
The beauty of this apparel lies not only in its diverse salwar kameez styles but also in the exquisite fabrics and embellishments used to create these stunning ensembles. Here's a glimpse into the world of fabrics and embellishments that add depth and character to Shalwar Kameez:
Fabrics
Shalwar Kameez is crafted from a variety of fabrics, with each one contributing to the overall look and feel of the outfit. Commonly used fabrics include:
Cotton
Ideal for casual wear, cotton Shalwar Kameez is breathable and comfortable, making it a popular choice, especially during hot weather.
Silk
Silk Shalwar Kameez exudes elegance and is often chosen for formal occasions. It drapes beautifully and has a luxurious sheen.
Chiffon
Chiffon adds a touch of sophistication to traditional salwar kameez. It's known for its lightweight and sheer quality, making it a top choice for parties and special events.
Georgette
Georgette offers a blend of style and comfort. Its slightly crinkled texture and flowing drape make it an excellent choice for a range of occasions.
Lawn 
Lawn fabric is popular in regions with hot climates due to its lightweight, breathable, and comfortable nature. It often features vibrant prints.
Shalwar Kameez Embellishments
Embellishments enhance the aesthetic appeal of Shalwar Kameez, turning them into true works of art. Some common embellishments include:
Embroidery
Intricate hand or machine embroidery in various threadwork styles such as zari, resham, or sequins adds a touch of luxury to Pakistani traditional clothes.
Mirror Work
Mirrors are often stitched onto the fabric to create a dazzling effect, adding a traditional and reflective charm.
Prints
Many salwar patterns feature beautiful block prints, floral patterns, or geometric designs, offering various choices for different tastes.
Zardozi
Zardozi is a heavy and elaborate form of embroidery that includes the use of metallic threads, beads, and gemstones for a regal appearance.
Lace and Border
Intricately designed lace and border work can be added to the edges of the Kameez and Dupatta for an extra touch of elegance.
Learn More: Shalwar Kameez Measurements Guide
Styling Tips About Shalwar Kameez
Styling Shalwar Kameez can be a delightful experience, as this versatile traditional outfit offers numerous possibilities for creating elegant looks. Here are some styling tips to help you make the most of your Shalwar Kameez:
Choose the Right Fit
Ensure that your Shalwar Kameez is well-fitted to your body type. An ill-fitting outfit can mar the overall appearance. Tailoring may be necessary to achieve the perfect fit.
Accessorize Thoughtfully
Select accessories that complement your Shalwar Kameez. Statement earrings, bangles, and a matching clutch or handbag can add flair to your outfit.
Dupatta Draping
The way you drape your Dupatta (scarf) can greatly affect your look. Try different styles, like casually draped over one shoulder or neatly pleated, depending on the occasion and your personal style.
Footwear Matters
Pair your Shalwar Kameez with the right footwear. For a traditional look, opt for juttis or mojris, while heeled sandals or pumps can add a touch of sophistication.
Mix and Match
Shalwar Kameez separates can be mixed and matched to create new looks. Experiment with different Shalwars or pair the Kameez with different bottoms for a fresh appearance.
Consider the Occasion 
Choose your Shalwar Kameez based on the occasion. An embellished ensemble with intricate embroidery is perfect for weddings or parties, while a simpler, casual outfit suits everyday wear.
Hair and Makeup
Your hairstyle and makeup can enhance the overall look. Updos or loose waves work well, and natural or bold makeup can be tailored to the event's formality.
Balance the Colors
If your Shalwar Kameez is vibrant and colorful, opt for neutral or complementary accessories to avoid overwhelming the look. Conversely, with a subtle outfit, you can go for bold and colorful accessories.
Blog Summary 
Shalwar Kameez is a timeless and culturally rich attire originating from South Asia. Its history is as diverse as its styles, with variations like the Anarkali, Patiala, and A-Line suits. Fabrics, from cotton to silk and chiffon, offer versatility for all seasons. Intricate embellishments, embroidery, and prints add a touch of artistry. 
When styling, choose the right fit, accessories, and footwear, and consider the occasion. Shalwar Kameez is a symbol of grace and tradition, making it suitable for both casual and formal events. Embrace its beauty, and let this versatile ensemble be a reflection of your personal style and cultural heritage.