A Guide to Exquisite Wedding Dress Embellishments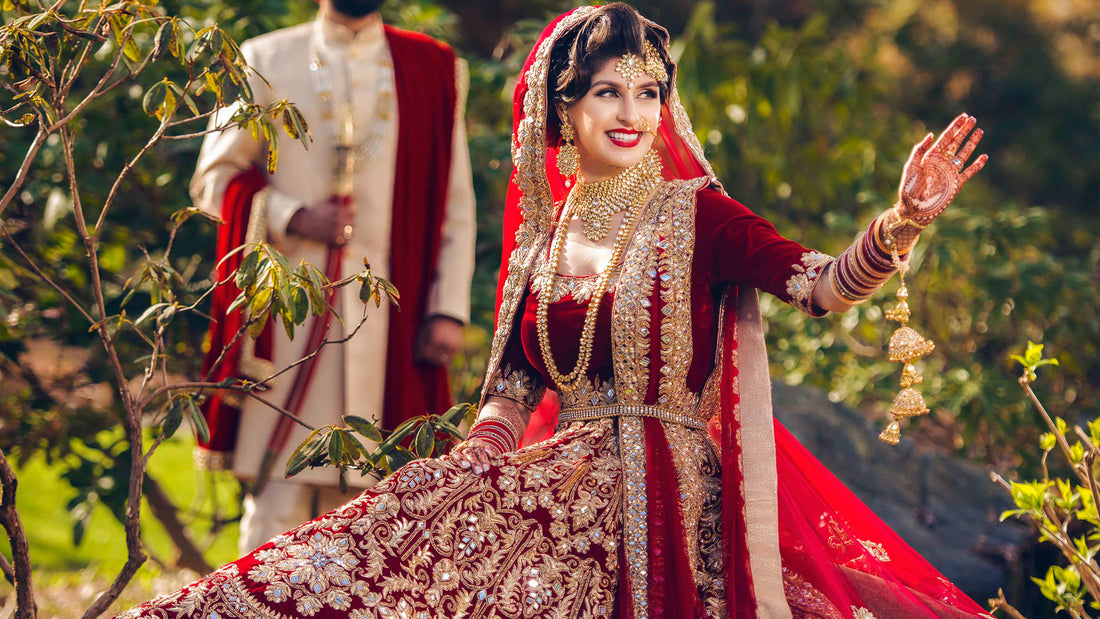 A Pakistani wedding is a grand affair celebrated with enthusiasm, color, and extravagance. One of the most fascinating aspects of a Pakistani wedding is the bride's attire, adorned with exquisite embellishments that elevate the charm and opulence of the ensemble. These embellishments are a testament to Pakistan's rich cultural heritage and craftsmanship.
From intricate threadwork to dazzling beadwork, online Pakistani wedding dresses embellishments celebrate artistry and tradition. In this inclusive guide, we will explore the various embellishments used in Pakistani wedding dresses, their significance, and how they add a touch of elegance to the bride's special day.
How To Embellish a Dress
Zardozi Embroidery: Capturing the Essence of Royalty
Zardozi, an ancient embroidery technique,

add lace to wedding dress

and silver threads to create intricate designs.

It adds a regal touch to wedding dresses, making them stand out with their shimmering beauty.

Zardozi embellishments often feature motifs inspired by Mughal architecture, such as floral patterns, paisleys, and vines.
Dabka Work: The Fine Art of Intricate Detailing
Dabka uses metallic threads, usually gold or silver, to create elaborate designs.

Highly skilled artisans meticulously stitch these threads onto the fabric, creating a raised, textured effect.

Dabka's work is known for its intricate detailing and

adding bling to wedding dress

and glamorous touches to bridal ensembles.
Gota Patti: A Burst of Colorful Elegance
Gota Patti is a traditional embellishment technique that originated in Rajasthan, India but has become popular in Pakistani bridal fashion.

It involves using ribbon or strip-like metallic elements, often in gold or silver, stitched onto the fabric to form intricate patterns and borders.

Gota Patti's work brings a burst of vibrant colors and adds a touch of elegance and sophistication to the wedding dress.
Sequin Embellishments: Sparkling Glamour
Sequins are small, shiny, disc-shaped beads sewn onto the fabric to create a glittering effect.

They add a touch of glamour and radiance to wedding dresses, reflecting light and creating a dazzling visual impact.

Sequins often

add beading to wedding dress

with other embellishments to enhance their overall allure.
Stone and Crystal Work: A Bedazzling Delight
Stone and crystal work involve placing gemstones, crystals, or rhinestones onto the fabric to create stunning designs.

These embellishments catch the light, creating a mesmerizing sparkle that adds a touch of elegance and luxury to the wedding dress.

From traditional motifs to contemporary designs, stone, and crystal work can be customized to suit the bride's preferences.
Mirror Work: Reflecting Beauty and Tradition
Mirror work, also known as shisha work, involves the placement of small reflective mirrors onto the fabric.

It adds a captivating element to the wedding dress, reflecting light and creating a beautiful shimmering effect.

Mirrorwork is often combined with embellishments like embroidery or sequins to enhance its impact.
Pearls and Beads: Timeless Elegance
Pearls and beads are classic

Pakistani Wedding Dress Trends

in

2023

, exuding timeless elegance and sophistication.

They are meticulously sewn onto the fabric, creating a delicate and intricate design.

Whether used sparingly or in abundance, pearls and beads add a touch of refinement to Pakistani wedding dresses.
Appliqué Work: Artistic Craftsmanship
Appliqué's work involves cutting out intricate shapes from fabric and adding

applique to

the

wedding dress

onto the base fabric.

This technique allows for creation of elaborate patterns and designs that stand out on the wedding dress.

Appliqué work can feature floral motifs, geometric patterns, or figurative elements, showcasing the artisan's creativity.
Resham Embroidery: Vibrant Threadwork
Resham embroidery, also known as silk thread embroidery, involves using colorful silk threads to create stunning designs.

It is known for its vibrancy and

adding embellishments to wedding dress

, allowing for incorporating a wide range of colors and intricate patterns.

Resham embroidery adds a vibrant and lively touch to Pakistani wedding dresses, making them visually captivating.
Tilla Work: Traditional Gold and Silver Embellishments
Tilla work is a traditional form of embellishment using gold or silver metallic threads.

These threads are intricately woven or embroidered onto the fabric, creating elaborate, eye-catching designs.

Tilla's work is often combined with other embellishments to create a rich and luxurious look.
Cutwork: Delicate and Detailed
Cutwork is a technique that involves cutting out portions of the fabric to create intricate patterns and designs.

It

add sparkle to wedding dress

and feminine touch to Pakistani wedding dresses, showcasing the skill of the artisans.

Cutwork can be combined with embellishments like embroidery or beadwork to enhance its visual impact.
Kundan Work: Traditional Elegance
Kundan work is a stone setting that originated in the Indian subcontinent and is widely used in Pakistani bridal fashion.

It involves setting semi-precious gemstones onto the fabric, usually in a gold or silver base, to create stunning designs.

Kundan's work

add lace to

the

wedding dress

and traditional touch to the wedding dress, exuding elegance and sophistication.
Tassels and Fringes: Playful Accents
Tassels and fringes are decorative elements that add a playful and dynamic touch to Pakistani wedding dresses.

They can be attached to the borders, sleeves, or hemline of the dress, creating movement and a sense of whimsy.

Tassels and fringes can be made of threads, beads, or metallic elements, enhancing the overall design and aesthetic.
Hand-Painted Details: Artistic Expression
Hand-painted details on Pakistani wedding dresses offer a unique and personalized touch.

Skilled artists meticulously paint intricate designs, motifs, or even portraits onto the fabric, creating one-of-a-kind pieces.

Hand-painted details allow brides to express their individuality and showcase their love for art and creativity.
Gham Bharai: Symbol of Good Luck
Gham Bharai is a traditional Pakistani

Wedding Dress Embellishments

where small pieces of fabric, beads, or sequins are stitched onto the wedding dress.

It is believed to bring good luck and blessings to the bride, symbolizing abundance and prosperity in her married life.

Gham Bharai is often placed strategically on the dress, such as near the neckline or sleeves, creating a visually appealing and meaningful design.
Aari Work: Fine Needlework
Aari work is a form of embroidery that uses a hooked needle, an Aari, to create intricate patterns on the fabric.

Fine, delicate stitches characterize it and can be done using threads of various colors.

Aari's work

adding bling to

the

wedding dress

and texture to the wedding dress, showcasing the skill and precision of the artisans.
Conclusion
Pakistani wedding dress embellishments are a true reflection of the country's rich cultural heritage and craftsmanship. The artistry and skill of creating these intricate designs make them a centerpiece of bridal fashion. Whether it's the regal allure of zardozi embroidery, the fine detailing of dabka work, the vibrant elegance of Gota Patti, the sparkling glamour of sequins, or the bedazzling delight of stone and crystal work, each embellishment brings its unique charm to the bride's ensemble.
When choosing a Pakistani wedding dress, consider how to Accessorize Pakistani Women's Outfits and consider the embellishments' style, design, and significance. Opt for embellishments that resonate with your taste and enhance the overall aesthetic of the dress. The meticulous craftsmanship and attention to detail that goes into these embellishments make them a symbol of luxury and elegance, adding an unforgettable touch to your special day.
As you embark on the journey of finding your dream Pakistani wedding dress, let the exquisite embellishments guide you toward a dress that encapsulates your unique style, celebrates tradition, and makes you feel like a true queen on your wedding day.