Elevate Your Wardrobe with Pakistani Salwar Kameez Online in USA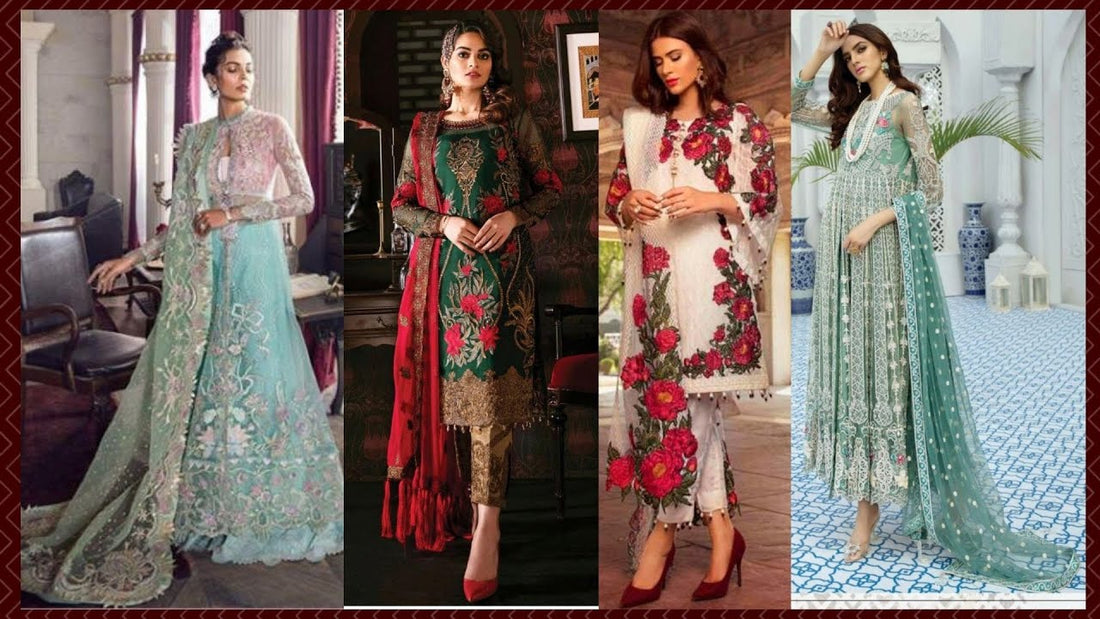 Salwar Kameez not only helps you to look beautiful and traditional but also enhances your importance and acceptance. Pakistani salwar kameez is a conventional and timeless outfit that women have preferred to wear for centuries.
It is a versatile outfit in a long tunic Kameez paired with loose-fitting pants, Salwar, and a scarf Dupatta. Salwar Kameez has evolved and is available in numerous styles, fabrics, and designs.
As the online shopping trend is increasing daily, purchasing Pakistani salwar kameez online usa has become more common and straightforward. Whether you are searching for regular or heavy dresses, the Pakistani Salwar Kameez is the best option to add style to your wardrobe and polish your style.
Benefits of Buying Salwar Kameez Online for USA Citizens
Thanks to technology, with the help of this, US citizens can buy Salwar Kameez from whatever Pakistani brand they want. Once you try the designer Pakistani salwar kameez, you just want to wear it again & again for sure. Let's look at some advantages of purchasing Pakistani lawn suits.
Easy to Buy
US citizens can make their chin up because online shopping saves time and effort. You feel so comfortable with online shopping because you're not required to visit the store, just sit at home or office and search for different Pakistani salwar kameez designs and add them to your cart.
High-Quality Material
Online stores offer authentic and high-quality Salwar Kameez, ensuring you get value for your money. The dress of the well-known Pakistani brand, "Gul Ahmed," has incredible quality and designs. You can buy stitched or unstitched dresses from this brand and never regret shopping for salwar kameez online usa surely.
Numerous Options
Online stores offer a wide range of Salwar Kameez designs, patterns, and fabrics. These stores allow you to find the perfect Pakistani salwar kameez usa that suits your taste and style.

Competitive Prices and Discounts
Pakistani brands offer competitive prices and discounts on Pakistani kameez, making it more affordable than buying from physical stores.
Read More: The Best Pakistani Designers to Try
Which Factors Should Keep In Mind While Buying Salwar Kameez Online in the USA
You should consider many aspects while shopping for Pakistani salwar kameez because online shopping makes people need clarification about some elements. So follow me and look at some essential features.
1. Pick Up the Right Style
There are various salwar kameez styles, including traditional, modern, and fusion. When you see the Lilium Jasmin, it has a great design and style; most girls prefer this style in Pakistani kameez. Confirm twice that your selected type is appropriate for the situation and your personality.
2. Select Fabrics Carefully
When choosing an outfit, comfort should always come first. However, it should also match the mood of the event you're attending. The season is also essential to consider. For summer days, cotton is a great choice. Satin, polyester, and silk are good options for all body types and occasions. You should never miss out Pakistani salwar kameez usa because the fabric you get here will not get from any other country.
3. Size Matters
Checking measurements and size charts is mandatory before purchasing Pakistani salwar kameez online usa. Moreover, consider if the seller offers alterations or customization options.
4. Consider the Trendings
Trends change in Pakistani kameez shalwar from time to time but it always comes in amazing styles and designs. One of the most popular trends in salwar kameez is the use of bright and bold colors.
While traditional salwar kameez outfits were mostly made in earthy tones, modern designers have experimented with bright and vibrant colors, making them a popular choice for wedding and party wear. The options are endless, from bold reds and pinks to bright yellows and oranges.
5. Choose the Appropriate Color Combination
Remember to consider your skin tone when selecting colors. If you have a warm undertone, earthy tones and warm colors like oranges, reds, and browns may suit you well. For cool undertones, pastels, blues, and purples can be flattering.
Ultimately, the choice of color combination for designer Pakistani salwar kameez is subjective, and choose what you like by heart and gives you a positive vibe. Additionally, consider the occasion, season, and personal style to create a stunning ensemble.
6. Price
Once you set your mind to do Pakistani salwar kameez online shopping, compare prices from different online sellers to get the best deal for your budget. Cheer options may only sometimes be the best quality.
Read More: Top 20 Popular Clothing Brands in Pakistan
How to Style Salwar Kameez for Different Occasions
The Pakistani salwar kameez online usa is an adaptable traditional attire that can be styled in various ways to suit different events. Here are some styling suggestions for salwar kameez for other events:
Office Wear
For work, you can opt for a more subtle and sophisticated salwar kameez in solid colors like black, navy blue, or beige. Avoid heavy embellishments and opt for minimal jewelry and comfortable flats or heels.
Casual Occasions
Opt for a simple cotton salwar kameez with minimal embellishments for casual outings. Pair it with comfortable sandals or juttas and minimal jewelry. To add fun to your style, you can also experiment with various prints and colors.

Festive Occasions
For festivals like Diwali or Eid, you can opt for a vibrant and colorful salwar kameez with embellishments like sequins, beads, or stones. Pair it with traditional jewelry and high heels to complete the festive look.
Official Occasions
You can wear a more elaborate salwar kameez with ornate embroidery or embellishments for formal events like weddings or receptions. To complete the outfit, add flashy jewelry and high heels.
Party Wear
When you do Pakistani salwar kameez online shopping for parties, you can experiment with different styles of salwar kameez, like palazzo suits, Anarkali suits, or sharara suits. Choose bold colors and statement jewelry to stand out in the crowd.
Purchase latest Pakistani Dresses at our website string and thread!
Wrap Up
New dresses Pakistani are versatile and elegant traditional attire that can elevate your wardrobe. Finding and purchasing the ideal salwar kameez that matches your style and occasion is now more straightforward because of the convenience of online shopping. If you want to buy heavy dresses, consider Panache - Peachy Blossom. You'll undoubtedly get the sunning pattern and colors in it. Every Pakistani brand has some uniqueness, so whatever brand you visit, you'll get something new for sure.
Some people think buying salwar kameez online usa is risky, but considering the above factors, you'll get what you require. You can ensure a satisfying and hassle-free shopping experience while elevating your wardrobe with the timeless beauty of salwar kameez.