What Should the Sister of the Bride and Groom Wear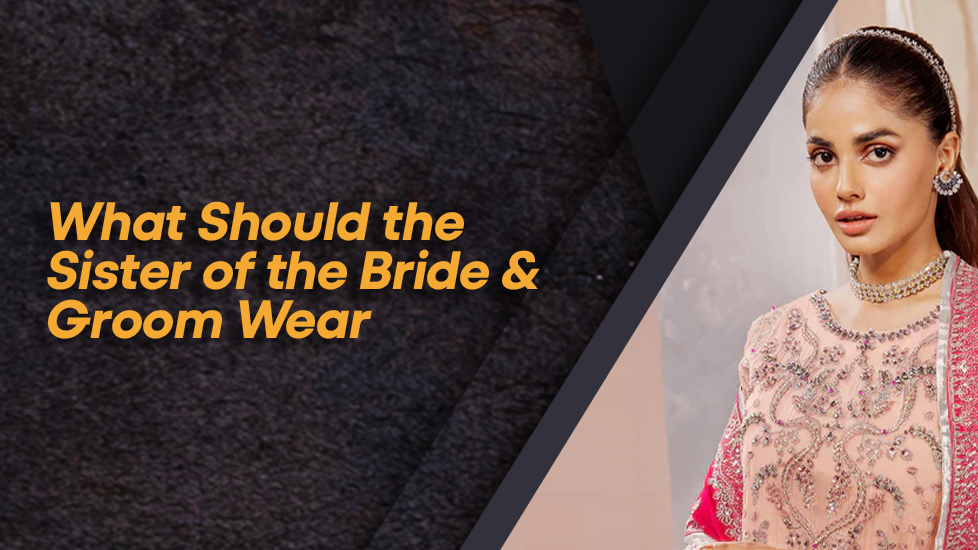 A Pakistani wedding is a vibrant and joyous celebration filled with traditions, rituals, and colors. If you're the sister of the bride or groom, you play a significant role in the wedding festivities. Besides being an essential part of the brother or sisters wedding event, you'll want to ensure you look your best. Respecting cultural norms and blending in with the Western environment if you're attending a wedding in USA is also essential.
If you want to strike the right balance between elegance, comfort, and personal style. Fear Not! This guide will help you navigate the exciting world of Pakistani wedding fashion for sisters and brothers of the bride and groom. So, let's start.
Understanding the Significance of Pakistani Wedding Dresses For Sister Wedding
Before jumping into what to wear, it's essential to understand the value of Pakistani wedding attire. Pakistani weddings are known for their elaborate customs and rituals. Traditional Pakistani clothing is deeply rooted in history and often incorporates intricate embroidery, luxurious fabrics, and bold colors. Each piece of clothing has a unique name and purpose, making it essential to choose the proper attire for your role as the sister of the bride or groom.
Choosing the Right Color
In Pakistani culture, the color of haldi dresses for bride sister carries immense importance for the Mayon events. While red is the traditional color for brides, and sisters of the bride and groom can opt for a wide range of colors. Jewel tones such as emerald green, sapphire blue, and royal purple are popular choices. However, pastel shades like peach, lavender, and mint have recently gained popularity. It's crucial to consider the overall color scheme of the wedding and the preferences of the bride and groom when selecting your outfit.
Traditional Attire Options
Lehenga Choli
A lehenga choli is a classic choice for sister of the groom dresses. This three-piece ensemble consists of a cropped top (choli), a flared skirt (lehenga), and a matching dupatta (scarf). Go for heavily embroidered lehengas for a traditional look, or choose simpler designs for a more modern touch.
Anarkali Suit
Anarkali suits are known for their flowing silhouette and intricate embroidery. They offer a timeless and elegant option for wedding guests. These suits come in a variety of styles, from floor-length to knee-length, making them versatile for different sisters wedding events.
Sharara or Gharara
Shararas and ghararas are known for their wide-legged pants paired with short kurtis. These outfits exude grace and charm, making them an excellent choice for sisters of the bride and groom, especially for mehndi and sangeet ceremonies.
Saree
A saree is an ideal piece of Pakistani and Indian attire. It's a versatile option that can be draped in various styles, allowing you to choose a look that suits your personal style and the formality of the event.
Western Fusion Options
As discussed earlier, if you're attending a Pakistani wedding in the USA, consider incorporating Western elements into your attire while respecting your cultural roots. Here are some fusion options to consider when shopping for Pakistani wedding dresses online:
Gown-style Anarkali
Combine the elegance of an Anarkali suit with a contemporary twist by opting for a gown-style Anarkali. This more extended version of the traditional Anarkali adds a touch of Western sophistication to your haldi dresses for bride sister.
Indo-Western Fusion Outfits
Many designers create fusion outfits that blend Western silhouettes with traditional Pakistani embroidery. These outfits can be a stylish choice for sisters of the bride and groom attending weddings abroad.
Jacket Lehenga
Pair a traditional lehenga skirt with a Western-style jacket to create a unique fusion look. This combination allows you to incorporate both cultures into your outfit seamlessly.
Accessorizing Your Outfit
Accessories play a vital role in completing modern dress for sister marriage. Here are some essential accessories to consider:
Jewelry
Choose statement jewelry such as chandelier earrings, classy bangles, and a maang tikka (forehead ornament). Gold and precious stones are popular choices for Pakistani wedding jewelry.
Footwear
Comfortable yet stylish footwear is a must. Consider embellished juttis (traditional Pakistani footwear) or high-heeled sandals that match dresses for sisters wedding.
Clutch or Potli Bag
Choose a coordinating clutch or potli bag to carry your essentials. These bags often feature intricate embroidery and add to the overall aesthetic.
Hairstyle and Makeup
Experiment with different hairstyles and makeup looks to enhance your overall appearance. Professional hair and makeup artists can help you achieve the perfect look.
Cultural Sensitivity in Western Environments
When attending a Pakistani wedding in the USA, it's essential to balance cultural authenticity and appropriateness for the Western setting. Here are some tips:
Modesty
Ensure your modern dress for sister marriage is modest and respectful of the wedding venue's dress code. Avoid extremely revealing or low-cut styles.
Covering Shoulders
In Western countries, covering your shoulders is customary during religious ceremonies. Carry a shawl or stole to drape over your shoulders when needed.
Footwear
Be mindful of the venue's rules regarding footwear. Some places may require you to remove your shoes, so choose footwear that is easy to slip on and off.
Interacting with Non-Pakistani Guests
Be prepared to explain the significance of your attire to non-Pakistani guests who may be curious about your clothing and accessories.
Interacting with non-Pakistani guests provides an opportunity to share the cultural significance of your attire. Being prepared to explain the meaning behind your Pakistani wedding dress trends and accessories can foster understanding and appreciation among those who may be curious. This exchange of cultural knowledge can further enrich the wedding experience for everyone involved.
Learn More: Pakistani wedding traditions
Blog Conclusion
Choosing the perfect dresses for sisters wedding as the sibling of bride or groom for a Pakistani wedding in USA requires careful consideration of tradition, culture, and personal style. Balancing the rich heritage of Pakistani fashion with Western sensibilities can lead to a stunning and culturally respectful ensemble. Remember to choose colors, styles, and accessories that reflect your individuality while honoring the significance of the occasion. By following these guidelines, you'll be well-prepared to shine at your sibling's wedding and create beautiful memories that will last a lifetime.