Pakistani Wedding Dresses By Famous Brands in USA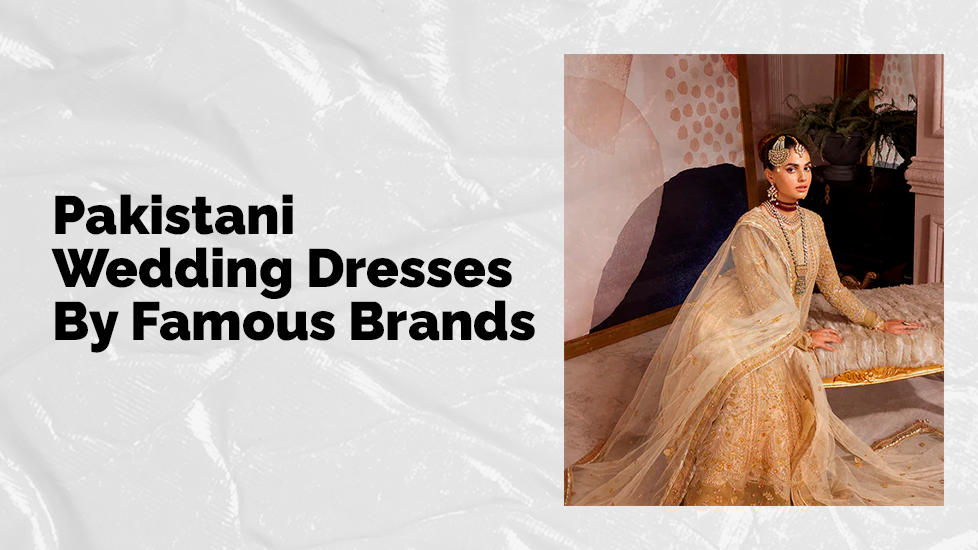 Dreamy Pakistani wedding dresses effortlessly blend elegance, style, and timeless class. When you're preparing to attend a wedding, it's crucial to remember that your appearance is complete with a fancy and eye-catching dress. Moreover, Pakistani wedding wear has garnered a special place worldwide. These stunning garments capture the sense of modish fashion, making them the best choice for brides and wedding guests.
In our blog, 'Pakistani Wedding Dresses by famous brands in USA', you will get a chance to learn about Pakistani bridal attire and the top Pakistani wedding dresses brands that bring this elegance to your doorstep. So, what are you waiting for? Let's explore the magic of Pakistani wedding fashion!"
The Value of Pakistani Wedding Dresses
Pakistani wedding dresses are aesthetically pleasing and possess significant cultural and emotional worth. Passed down as prized family treasures, these outfits possess a remarkable traditional background that adds to their uniqueness.
One of the most remarkable aspects of Pakistani wedding dresses is their longevity. Wearing a dress worn by one's mother, grandmother, or even great-grandmother instills a deep connection to one's roots. It's an impressive tribute to the enduring customs and values cherished within the family for decades.
As a result, the value of Pakistani wedding dresses goes far beyond their material worth, making them a treasured and irreplaceable part of a bride's special day.
Top Pakistani Wedding Dress Brands in USA
Undoubtedly, the USA has become a hub for Pakistani bridal fashion. Pakistani wedding dresses are known for their rich fabrics and timeless elegance, making them a top choice for brides all around the world who seek to blend with modern style. In this section, we will explore some of the leading Pakistani bridal dress brands that have made their mark in the USA's fashion scene.
Asim Jofa
Asim Jofa is a celebrated Pakistani designer whose bridal collections have made a mark in the USA bridal fashion background. His creations often feature intricate handwork, luxurious fabrics, and a perfect blend of captivating silhouettes. Asim Jofa's bridal dresses are known for their elegance and sophistication.
Hoorain Designer Wear
Known for its gorgeous luxury formal and bridal wear, this brand offers diverse bridal ensembles that cater to different tastes and preferences. Hoorain Designer Wear is a prominent name in Pakistani bridal fashion. Their collections feature intricate embroidery, plentiful fabrics, and a fusion of elegant designs.
Imani Studio
Imani Studio is another esteemed Pakistani bridal dresses brand. With a strong focus on designer dresses, they offer a stunning variety of bridal wear that captures the elegance of Pakistani fashion. From bridal lehengas to anarkalis and gowns, Imani Studio's creations are known for their attention to detail and quality artwork.
Sana Safinaz
Sana Safinaz combines alluring elements with sophisticated aesthetics, resulting in bridal dresses that are both classic and fashionable. It is a well-known Pakistani fashion brand that has gained a significant fan following in the USA. While renowned for their pret-a-porter collections, their bridal wear line is equally impressive.
Maria B
Overseas Pakistanis can understand how Maria B's USA-based outlets offer bridal ensembles catering to various tastes. It is a household name in Pakistan's fashion industry, and her bridal wear is no exception. You will get bridal collections that often combine fancy trends, making them a favorite among brides in the USA.
Nomi Ansari
Nomi Ansari is renowned for his vibrant and colorful bridal collections. His designs are fresh air in Pakistani bridal wear fashion, offering bold and unique choices for brides who want to make a statement on their special day. Nomi Ansari's bridal dresses are a perfect identity of pakistani wedding tradition and innovation.
Zainab Chottani
Brides in the USA often turn to Zainab Chottani for classic and elegant bridal ensembles. Zainab Chottani is known for her intricate embellishments and luxurious fabrics. Her bridal collections testify to her commitment to creating timeless pieces that exude grace and sophistication.
Elan
Elan, a high-end fashion brand from Pakistan, has gained worldwide recognition due to its breathtaking bridal collections. This brand can be the best choice if you want to merge style with elegance and class. Elan's bridal ensembles are renowned for their lavishness and sophistication.
These top Pakistani bridal dresses brands have redefined bridal fashion with their creativity and dedication to preserving the essence of Pakistani style. If you are a bride seeking a classic, elegant look or prefer bold and contemporary designs, these brands offer options to cater to your unique style. So, choose any of these brands and make your wedding day memorable.
Trending Pakistani Wedding Dress Styles
Pakistani wedding dress styles have a remarkable ability to blend grace with contemporary fashion trends. With each passing year, new styles emerge while classic designs continue to captivate brides. Let's explore some trending Pakistani wedding wear styles making waves in the bridal fashion scene, drawing inspiration from the links provided.
Luxurious Lehengas
Lehengas continue to be an all-time favorite among Pakistani brides. These voluminous skirts paired with intricately embellished cholis and dupattas offer a regal and timeless look. Recent trends have seen a revival of flair techniques like zardozi and gota work, creating intricate designs. Designers like Mohsin Naveed Ranjha have embraced this trend, offering exquisite collections featuring luxurious lehengas for queens.
Modern Silhouettes
While simple styles hold a special place, modern silhouettes are gaining popularity among modern brides. A-line and mermaid cuts are being incorporated into Pakistani bridal wear, adding a touch of sophistication. These silhouettes flatter the figure and provide a fresh twist to classic designs.
Pastel Palette
Brides are increasingly embracing pastel hues alongside the traditional reds and maroons. Soft pinks, peaches, and muted blues have become trendy choices for wedding attire. These delicate shades exude elegance and create a romantic ambiance.
Fusion Ensembles
Fusion wear has gained momentum as brides look for attire that seamlessly merges Pakistani tradition with global influences. Incorporating elements from different cultures and regions, such as Indo-Western gowns with intricate Pakistani embroidery, creates a unique and eye-catching bridal style.
Statement Sleeves and Necklines
Statement sleeves and necklines have become a defining feature of Pakistani bridal wear. Designers are incorporating dramatic sleeves, off-shoulder necklines, and sheer fabrics adorned with embellishments to create a striking visual impact.
Minimalistic Elegance
Many brides favor a more graceful appearance and opt for minimalistic bridal gowns, which are gaining popularity. Dresses focus on clean lines, subtle embellishments, and a minimalist aesthetic, allowing the bride's natural beauty to shine through.
Floral Embroidery
Whether it's intricate floral patterns on the entire dress or delicate floral accents, this trend breathes life into Pakistani wedding dresses. Floral motifs in embroidery have made a comeback, adding a touch of femininity and romance to bridal attire.
Where to Buy Pakistani Wedding Dresses Online in the USA
When finding the perfect Pakistani wedding dress online in the USA, one name stands out for offering top-notch wedding dresses and formal attire – String & Thread. While String & Thread is primarily known for its presence in the US, its exceptional collection is accessible to brides and fashion enthusiasts in the USA through its online platform.
String & Thread boasts a stunning collection of Pakistani bridal dresses and formal wear, combining formal handwork with up-to-date design sensibilities. Their carefully curated selection includes an assortment of styles, from exquisite bridal lehengas to elegant formal gowns, each crafted to perfection.
What sets String & Thread apart is not just the quality of their clothing but also their commitment to customer satisfaction. Their store provides a seamless shopping experience, offering detailed pakistani designer brands, sizing guides, and excellent customer support to assist USA-based shoppers in making informed decisions.
Furthermore, String & Thread dedication to authenticity ensures that each piece in their collection reflects the rich heritage of Pakistani fashion. Whether you're a bride-to-be looking for the perfect wedding dress or a wedding guest searching for a show-stopping formal outfit, String & Thread's online store is a treasure trove of options to cater to your needs.
Tips for Choosing the Perfect Pakistani Wedding Dress
Considering the many options available, choosing the perfect Pakistani wedding dress can be both exhilarating and overwhelming. To help you navigate this important decision, we've compiled a comprehensive guide with essential tips to ensure you find the dress of your dreams.
Start Early
The process of selecting a Pakistani wedding dress should ideally begin several months before the wedding. This allows you ample time for browsing, fittings, and any necessary alterations.
Set a Budget
Determine a realistic budget for your wedding dress. Pakistani Wedding Outfits comes in a wide range of prices, so having a budget in mind will help you narrow down your options.
Research Styles
Explore different styles of Pakistani wedding dresses, including lehengas, shararas, ghararas, and Anarkali. Consider what style best complements your body shape and personal preferences.
Understand Fabrics
Familiarize yourself with the various fabrics commonly used in Pakistani bridal wear. Silk, chiffon, velvet, and jamawar are popular choices, each offering a unique texture and appearance.
Embrace Color Traditions
While red is a traditional color for Pakistani brides, modern brides often experiment with a range of colors like pastels, maroons, and gold. Choose a color that resonates with your vision for the wedding.
Keep Cultural Aspects in Mind
If you have specific cultural or regional preferences, ensure that your dress incorporates those elements. Different regions of Pakistan have their own distinct bridal styles and embroidery techniques.
Consider the Season
Think about the season in which your wedding will take place. Lightweight fabrics and sleeveless designs are suitable for summer weddings, while heavier options work well for winter ceremonies.
Explore Embellishments
Pakistani Wedding Outfits are known for their intricate embellishments. Decide whether you prefer heavy embroidery, sequins, crystals, or a more subtle, elegant look.
Consult a Designer or Boutique
Visiting a reputable bridal boutique or working with a skilled designer can be immensely beneficial. They can guide you through the selection process and offer expert advice.
Try Before You Buy
Always try on the dress before making a decision. Pay attention to how it fits, how comfortable it is, and whether it allows for ease of movement.
Plan for Alterations
Be prepared for the possibility of alterations to achieve a perfect fit. Factor in the cost and time required for alterations when planning your wedding timeline.
Trust Your Instincts
Choose a wedding dress that makes you feel confident, beautiful, and comfortable. Trust your feelings and select the one that resonates with you on a personal level.
Accessories Matter
Consider bridal accessories like jewelry, headpieces, and shoes that complement your dress. They can enhance your overall bridal look.
Get a Second Opinion
It can be helpful to bring a trusted friend or family member along when shopping for your wedding dress. They can provide valuable feedback and emotional support.
Be Open to Customization
If you can't find the perfect dress, don't hesitate to explore custom options. Many designers and boutiques offer customization services to create a dress tailored to your vision.
Let's Conclude
The world of Pakistani wedding dresses is a vibrant tapestry of culture, tradition, and style. With a myriad of renowned brands offering their exquisite collections online, brides and grooms-to-be have a wealth of options at their fingertips. Whether you're seeking the timeless elegance of Sana Safinaz, the intricate craftsmanship of Maria B, or the modern flair of Elan, there's a brand to cater to every taste and preference.
The convenience of shopping for these stunning online pakistani wedding dresses has made the wedding planning process even more accessible and enjoyable. From the comfort of your home, you can explore the rich diversity of Pakistani wedding attire and find the perfect outfit that resonates with your personal style and heritage.
As you prepare for your big day, keep in mind that the dresses you choose should showcase your individual style. Happy shopping, and best wishes for a blissful wedding day!