Best Engagement Photo Dresses That Will Capture Your Love Story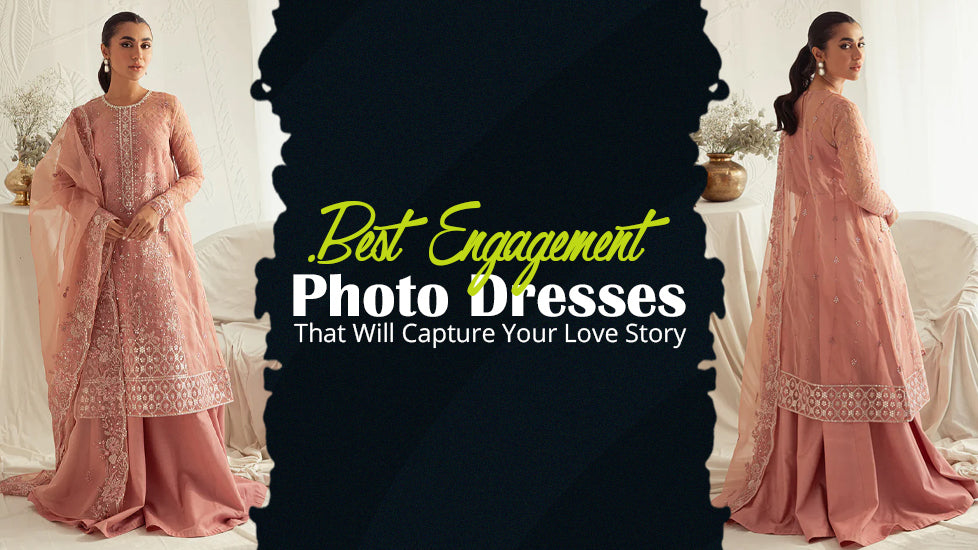 Are you looking for the perfect engagement photo dresses to capture your love story? Look no further! Engagement photo shoots are a great way to celebrate your new relationship status and create memories that will last a lifetime. Choosing the right dress can be a daunting task, but don't worry, we've got you covered. We've researched the best engagement photo dresses for every budget and style.
From romantic mini dresses to embellished frocks and chic jumpsuits, we've got something for everyone. Whether you're looking for something sleek and sophisticated or relaxed and carefree, we've got you covered. So, what are you waiting for? Let's dive in and find the perfect dress to capture your love story!
Choosing the Perfect Dresses for Engagement Photos
Selecting the ideal engagement photo dress is a crucial decision, especially for our beloved desi couples. Your dress should reflect your cultural heritage while resonating with your style. For a traditional touch, consider a vibrant lehenga or a classic saree. A rich red or royal blue pakistani outfits for weddings can add color to your photos, symbolizing love and prosperity. 
If you prefer a fusion look, try an elegant Anarkali gown with intricate embroidery, blending modern and traditional elements seamlessly. Keep in mind the season and location of your photoshoot to ensure comfort and practicality. Your dress should tell the story of your love and heritage while making you look and feel your best.
Inspiration from Suess Moments
Suess Moments is a treasure trove of inspiration for dresses for engagement photos, catering to a diverse desi audience. From their collection, we've handpicked a few enchanting dress ideas that can make your love story come alive in your photos.
The Regal Red Lehenga
Suess Moments showcases a stunning red lehenga with intricate gold embroidery. This classic choice exudes timeless elegance, perfect for couples who want to celebrate their love story with a touch of tradition.
The Pastel Princess Anarkali
For those who prefer a contemporary look, Suess Moments features a breathtaking pastel-hued Anarkali gown. It's a dreamy choice for couples looking for a fusion of modern and traditional elements in their engagement shoot dresses.
The Glamorous Saree
If you're keen on a saree, you'll find inspiration in Suess Moments' collection. Their range includes a selection of sarees in various colors and styles, allowing you to pick one that resonates with your personality and love story.
Suess Moments' carefully curated collection provides a variety of choices that can help you decide on the perfect dress that beautifully captures your love story. Don't forget to visit their website to explore even more options and find the dress that speaks to your heart.
Tips and Trends for Engagement Photo Dresses
Choosing the perfect engagement dress is not just about fashion; it's a reflection of your unique love story. For desi couples, this decision holds cultural and sentimental significance. Here, we'll explore some valuable tips and the latest trends to ensure you look and feel your best during this momentous occasion.
Consider the Season and Location:

Begin by taking into account the season and location of your engagement photoshoot. Light, breathable fabrics like chiffon or georgette work well for summer, while heavier silks and velvets are ideal for winter. Outdoor locations might call for

engagement shoot dresses

that are easy to move in, while indoor settings allow for more elaborate and intricately designed outfits.
Cultural Significance:

Desi couples often prefer engagement dresses that represent their cultural heritage. This might mean choosing traditional attires such as lehengas, sarees, or sherwanis. Ensure that your

classy dress for engagement

pays homage to your roots and traditions.
Express Your Personal Style:

Your engagement dress should be a reflection of your personal style. Whether you opt for a classic, elegant look or a more contemporary and trendy outfit, it should resonate with your tastes.
Coordinate with Your Partner:

If your partner's attire is equally important, coordinate your outfits to create a harmonious look. Colors, embroidery, and design elements can be matched to tell your shared love story.
Prioritize Comfort:

Comfort should be non-negotiable. You'll likely be spending several hours in your engagement dress, so make sure it fits well and allows you to move freely. Avoid overly tight outfits that might restrict your movements or cause discomfort throughout the day.
Latest Trends in Engagement Photo Dresses
Pastel Hues
Pastel colors are currently in vogue for engagement dresses for pictures. Soft shades like blush pink, mint green, and baby blue exude a dreamy and romantic aura that works well for modern couples.
Minimalist Embroidery 
While intricate embroidery remains a classic choice, minimalistic and delicate embroidery is gaining popularity. These subtle details add a touch of elegance without overwhelming the outfit.
Anarkali Gown 
Anarkali gowns with floor-length flares are a trendy choice for engagement ceremonies. They combine the grace of a traditional anarkali with the modern silhouette of a gown, creating a fusion of styles.
Cape and Drape Styles
Adding capes or drapes to your engagement dress is a fashionable way to create a stunning, layered effect. These additions not only look regal but also add an extra dimension to your outfit.
Unique Blouse Designs
For saree wearers, the blouse design is crucial. The latest trend is to experiment with unique blouse designs, such as off-shoulder, cold-shoulder, or even backless styles.
Remember that your engagement dresses for pictures are more than just clothing; it's a part of your love story. Following these tips and staying updated with the latest trends can help you select an outfit that encapsulates your journey and makes your engagement photos even more memorable. So, choose the dress that tells your unique love story most beautifully.
Additional Ideas and Accessories
To make your engagement photo dress truly stand out, consider these additional ideas and accessories to enhance your overall look:
Statement Jewelry
Accessorize with statement jewelry pieces that complement your dress. A choker, maang tikka, or a pair of jhumka earrings can add a touch of elegance and cultural significance to your outfit.
Footwear
Your choice of footwear and engagement dresses for photoshoot matters. Whether it's traditional juttis, high heels, or stylish wedges, make sure your shoes align with the overall look and are comfortable for your photoshoot location.
Bridal Clutch
A beautifully embroidered bridal clutch can be a stylish addition. It not only serves a practical purpose but also complements your outfit and adds a unique touch.
Hair Accessories
Consider incorporating hair accessories like fresh flowers, bejeweled pins, or hairpieces that match your dress. These can enhance your hairstyle and complete your look.
Veil or Dupatta
For saree or lehenga wearers, a veil or dupatta can be creatively draped to create stunning and dramatic photos. It adds an extra layer of elegance to your ensemble.
Bangles and Bangles
Don't forget to adorn your wrists with beautiful bangles or bracelets. These can be traditional gold bangles or trendy metallic designs, depending on your style.
Engagement Ring
Since it's an engagement photoshoot, like engagement dresses for photoshoot your engagement ring should be a prominent accessory. Ensure it's clean and polished to shine in your pictures.
Bouquet or Floral Arrangement
If you're going for a romantic or dreamy look, carrying a bouquet or a small floral arrangement can be a charming addition. The flowers can be chosen to match your dress or the overall color scheme of your photoshoot.
Keep in mind that accessories should enhance your engagement dress, not overpower it. Choose them thoughtfully to create a balanced and harmonious look that reflects your unique style and love story.
Blog Summary 
Your engagement photos are a visual testament to the love story you and your partner share. The choice of your engagement dress is a vital component in weaving this beautiful narrative. Whether you opt for a traditional lehenga, a contemporary gown, or any other style that resonates with you, remember that it's not just clothing; it's an expression of your love, culture, and personal style.
As you embark on this wonderful journey, may your engagement dress be a symbol of the love and commitment you've chosen to celebrate. With the right dress and thoughtful accessories, you'll create timeless memories that capture the essence of your unique love story. So, embrace the process, enjoy the journey, and let your love story shine through in every photograph. Your engagement photos are a testament to your beautiful love, and they're bound to be treasured for a lifetime.