Elegant Engagement Dresses for Your Special Day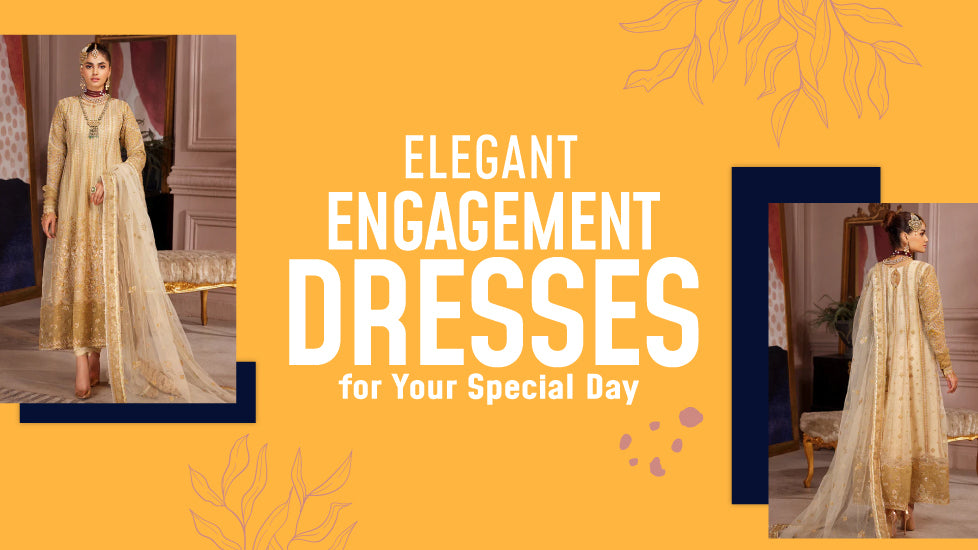 Your engagement is a significant milestone in the journey of love, a beautiful chapter that marks the beginning of your lifelong partnership. Finding the perfect dress to commemorate this special occasion is a top priority for many brides-to-be.
Whether you're planning a grand celebration with all the bells and whistles or an intimate gathering with close friends and family, your engagement ceremony dress should reflect your unique style, personality, and the love story you're about to write.
In this blog, we'll take you on a captivating journey through a curated selection of elegant engagement dress ideas, each designed to make you look and feel like a queen on your extraordinary day.
Traditional Elegant Engagement Dresses
For brides who hold a deep appreciation for the timeless beauty of tradition, there's truly nothing quite like a traditional engagement dress. This style of classy dress for engagement carries with it a sense of history and a connection to your cultural heritage that can be profoundly meaningful. Look to classic silhouettes, intricate embroidery, and rich, opulent fabrics that are deeply rooted in your cultural history.
Moreover, by embracing these elements, you not only honor your heritage but also create a unique connection to your roots. In doing so, your engagement attire becomes a powerful vehicle for celebrating your identity and crafting a look that is not just elegant but also eternal, resonating with the grace and beauty of your heritage.
Engagement Outfit for Bride: 

Modern Glamour

If you're a contemporary bride with a penchant for all things modern, opt for glamorous engagement clothes that perfectly embody your style. Consider sleek lines, minimalist designs, and show-stopping details that define the essence of modern glamour. A stylish, tailored outfit can exude elegance while keeping things fresh and fashion-forward. Look for gowns with clean, structured silhouettes and avant-garde elements. 

Furthermore, experiments with unique textures, metallic accents, or unconventional fabrics. Accessories like statement earrings or a bold clutch can add a touch of contemporary chic to your look. A modern and glamorous classy dress for engagement will not only make you stand out but also showcase your confidence and fashion-savvy approach to your special day.
Timeless Classics
Classic engagement clothes are a timeless choice that always stays in style. Opting for a simple yet elegant A-line dress or a majestic ball gown with a timeless silhouette can make you feel like a princess on your special day. These classic designs have an enduring charm that transcends fleeting fashion trends. 
Engagement photo dresses are the perfect opportunity to showcase your unique style and create lasting memories of your special day.
In addition, to enhance your classic bridal look, consider adding delicate accessories. A string of pearls, a vintage-style veil, or dainty gloves can perfectly complement your ensemble, elevating your elegance to a new level. With a classic engagement dress and timeless accessories, you'll create a look that stands the test of time, ensuring that your memories remain as beautiful as your attire.
Boho Chic
For a more relaxed and free-spirited vibe on your engagement day, consider donning a boho chic ceremony dress. This style exudes a carefree and natural elegance perfect for brides who want a laid-back yet captivating look. The critical elements of a boho-chic dress include flowing fabrics, intricate floral embellishments, and a palette of soft, earthy colors. Opt for ethereal materials like chiffon, lace, or silk gently swaying with every movement.
Therefore, floral headbands, loose waves, and minimalistic accessories complement the boho spirit, creating a look that feels effortless and rooted in nature. With a boho-chic engagement elegant engagement dresses, you'll embody a whimsical beauty that perfectly matches your free-spirited personality, making your special day a truly unique and unforgettable experience.
Showstopper Gowns
For the bride who dreams of turning heads and leaving a lasting impression, a showstopper gown is undoubtedly the way to go. These extravagant, elegant engagement dresses are designed to captivate and make you the center of attention on your special day. Look for gowns with intricate beadwork that glistens under the spotlight, dramatic trains that create a sense of grandeur, or unique features that set you apart. 
Pakistani clothes for wedding and engagement ceremonies are all about making a bold statement and embodying the essence of luxury and opulence. Paired with complementary accessories and an air of confidence, a showstopper gown ensures that all eyes will be on you, creating a memory that will linger long after the celebrations.
Personalized Touch
Ultimately, the most elegant engagement dress is the one that reflects your unique personality and makes you feel like the beautiful, one-of-a-kind person you are. Don't hesitate to infuse your engagement outfit for bride with personal touches that resonate with your individuality. Consider customizing your gown with monogramming, allowing you to imprint your initials or a particular date onto the fabric, creating a meaningful connection to your special day. 
Adding a unique piece of jewelry, a family heirloom, or a meaningful gift can add a touch of sentimentality and tradition to your attire. And remember sentimental accessories, such as a beloved scarf or a locket, which can enhance the personal connection to your dress. In the end, the most elegant engagement outfit for bride is the one that tells your story, and with these personal touches, your attire will be a true reflection of your inner beauty and individuality.
Blog Summary 
Your engagement day celebrates love and commitment, a moment when your unique beauty and love story take center stage. It's a day to feel extraordinary, shine, and cherish the memories that will last a lifetime. Whether your heart leans towards traditional styles, modern glamour, timeless classics, boho chic, showstopper gowns, or a personalized touch, there's an elegant engagement dress that's perfect for you. 
Draw inspiration from your style and Pakistani designer brands, and choose the dress that resonates with your heart. As you step into that gown, remember that you are not just wearing a dress; you are wearing your love and dreams. Embrace the moment, and let your elegance and love shine through, creating a memory that will forever warm your heart.