Kundan Meenakari Jewelry for Your Next Special Occasion!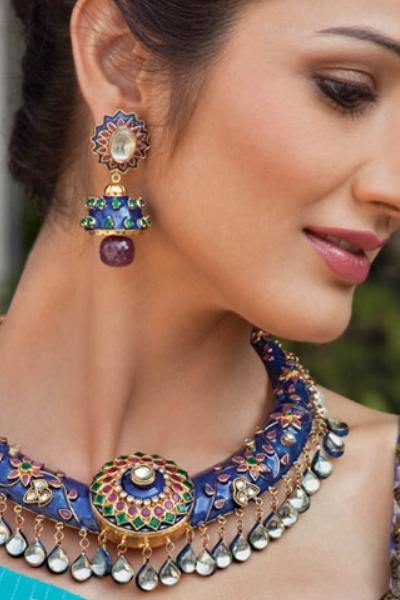 Kundan and Meenakari Jewelry are one of the fascinating and beautiful jewelry and are hot trends in the fashion market, and for this reason, the Indian Jewelry Market has received great consideration from the shoppers all around the world. Though modern women love the small and lightweight earrings and jewelry, the kundan, Polki and meenakari has changed the fashion trends, and are considered as a popular choice for women today, whether it be party, wedding, celebrations and even casual days chaand baalis crafted with Kundans and minakari never go out of style. Indian bride's first choice for wedding jewelry is, of course, the Kundan jewelry, as it offers elegant, beautiful, and fascinating style statement, that makes the wedding attendances not to take their eyes off from the bride. Kundan Jewelry is one of the oldest Indian Jewelry that has the resplendent appearance and masterful crafting followed by minakari. Minakari adds the stunning detailing to the jewelry making it more gorgeous and elegant.
Kundan and Meenakari Jewelry can go Great with floral Lehengas and Suits
If you love wearing the floral designs, then you must try pairing them with the Kundan or Minakari or kundan with Meenakari Chaand Baali. Chaand Baali will allow you to look graceful and pretty. It will allow you to get the style statement that you want to make for every party and event. Kundan Jewelry Collection has enormous fashion jewelry for jewelry enthusiasts so you can find a different style for every party shopping unique pieces of kundan or meenakari jewels.
Crafted with Little Beads will allow you to Perk up
Most of the Meenakari and Kundan Jewels has Little beads at the corner or bottom. These Little color beads that perfectly sync at your every move can make you look elegant and even turn simple outfit to the most trendy one.
Minakari has a Great color Combination
You can pick a different color of jewelry to pair your dress, suit, saree, or Lehenga because Meenakari and Kundan Jewelry are not just designed in one color, you can find different colors crafted and different bead colors to pair your jewelry with your outfit. The most popular colors right now are green beads or blue and gold combination. These collections will surely allow you to rock your next special events with a shower of compliments and attention.
Kundan Maang Tikkas and Earnings are the perfect choices for your outfit that you are going to wear on the next Indian wedding occasion. Because they offer an elegant and charming look with wedding attire.
If you are planning to shop Kundan and Meenakari Jewelry, then you must have a look at the impressive collection at www.stringnthread.com