How to Accessorize Pakistani Women's Outfit: A Complete Guide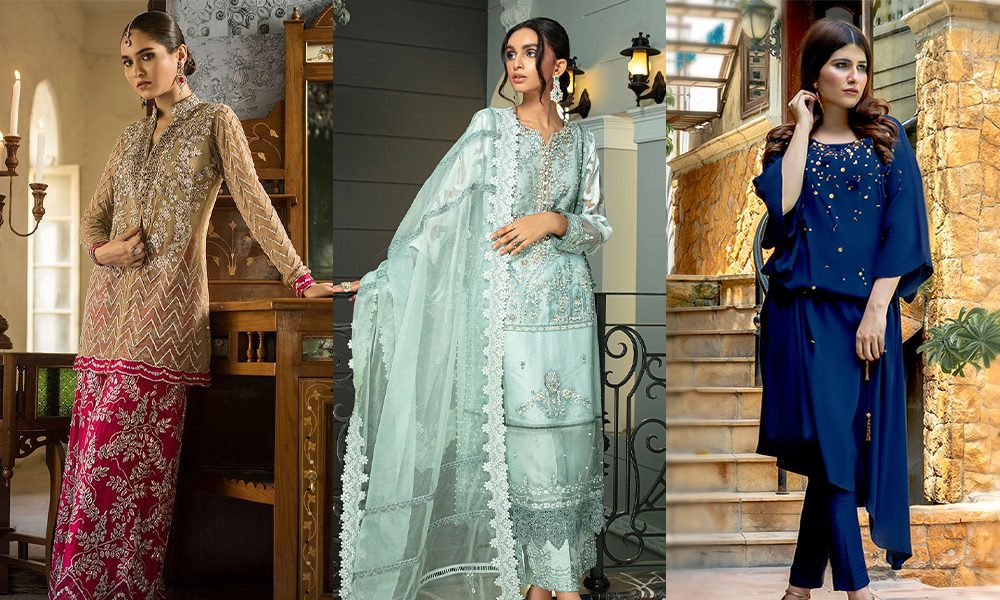 One of our favorite go-to looks is undoubtedly an outfit. They may be worn all year round, whether dressed up or not. What's the unique approach to putting together an outfit that looks amazing right away? Accessories, without a doubt.
Adding smaller accessories to your overall dress, such as jewelry, bags, and shoes, will bring life to your appearance. Several accessories complete the rest of your look and have valuable purposes.
Accessorizing outfits allow you to show off your distinctive style and increase adaptability. The same outfit may be worn multiple times while looking and feeling different with the help of different accessories and styling.
Elevate Your Style and appearance by accessorizing outfits
Adding accessories to your outfit may be a creative and enjoyable way to update your appearance. Accessories help you achieve your fashion goals, whether you want to elevate a traditional look or add a unique touch to a special occasion. By accessorizing outfits, you can turn your appearance immediately fashionable with the appropriate use.
Finding your particular style by knowing what looks well on you is essential. Remembering your preference can help you choose the most flattering colors, materials, shapes, and textures.
Additionally, think about what item will suit best with other pieces in your wardrobe so you can mix and match them easily. Once you have an essential accessory detail, you can play around with different textures and color combinations to keep changing your personality on other occasions.
How to Accessorize Your Outfits With Pakistani Fashion
Anyone wishing to add flair to their wardrobe should follow accessorizing trends—the ideal approach to expressing your personality and dressing up in plain clothing with decent accessories. Finding the perfect accessories and understanding how to style them properly is the first step in fashion, whether a timeless classic look or something more trendy.
Regarding fashion, the right accessories can make all the difference since there are many beautiful and cool accessories to wear with different outfits to enhance your character and style.
Accessories can take a basic outfit and elevate it to a new level of sophistication. Whether you prefer statement jewelry, bold belts, or trendy bags, adding accessories to your outfit can make you feel confident, put-together, and stylish. But, it also involves fashion sense and understanding the additional items that can help you to look more attractive.
Here is a list of accessory items that are commonly used in the fashion industry and play the role of a center of attention.
Become attractive and Beautiful with Chunky Jewelry
Chunky jewelry is increasingly fashionable as an accessory to enhance your appearance—a statement piece as striking and captivating as chunky jewelry can transform any look from ordinary to extraordinary. You can create an edgy yet refined look with the correct jewelry selection.
Chunky jewelry has the power to transform any outfit into a fashion statement. The bold and eye-catching pieces can add instant charm to your look and upgrade your style. But not only that, but jewelry can also help you feel more attractive.
Jewelry is a great way to be creative with your wardrobe and make a bold fashion statement, from giant earrings to stacked necklaces. Whether you choose gold or silver jewelry, these exceptional items will stand out everywhere you go. But, you'll need to make a match with your dresses, such as accessorizing a white dress with light and simple jewelry. Great choices can add elegance to every outfit, from cocktail parties to running errands or any other occasion.
Add unique style with Headwear accessories
Headwear accessories are an excellent way to add a unique and personalized touch to your outfits. Headwear accessories come in various shapes and sizes, from hats to headbands, hair clips, claws, and scarves. It is easy to find something that fits your style and brings sophistication.
One of the most significant advantages of headwear accessories is that they may completely change the feel of your clothing. A chic fedora hat or a current turban headband may dress up a straightforward ensemble of jeans and a t-shirt. Moreover, a bold and colorful headscarf or headband can make a statement and become the center of attraction that draws attention to your face.
If you have decided to wear black on your upcoming occasion, you must find a matching accessory for a black dress.
Put Charm to Your Outfit Instantly with Statement Belts
Statement belts are the perfect accessory to add an edge to any outfit. Whether you're wearing a simple dress or a pair of jeans and a t-shirt, a statement belt can transform your look in seconds. From bold buckles to intricate designs, these belts are a fashion-forward way to express your style.
Although there are numerous accessorizing methods, statement belts provide a chance for individuality and style.
If you are planning to wear a white outfit and wondering how to accessorize a white dress. You'll need to find something you like among various patterns and textures.
Try Scarves and Wraps with your outfit
Wraps and scarves are the ideal way to upgrade any outfit immediately. Adding one of these accessories can transform your look.
We heard someone asking how to accessorize a black dress for a date night; the scarves and wraps can be your perfect choice. These accessories are stunning, from a basic tank top, jeans, and flip-flops to a sophisticated evening gown.
Whether you choose a delicate chiffon scarf or a warm and comforting wrap, it will give the outfit an additional level of style, whether you go strong with bold designs or subtly with softer tones.
Complete Your Look With Colorful Shoes and Bags
Nothing beats the effect of colored shoes and bags when it comes to accessorizing outfits. Whether you're trying for a traditional look or something more contemporary, giving your outfit a pop of color is a simple way to make it stand out. Several alternatives are available when picking shoes and bags that will help improve any appearance, from vivid colors and designs to calm tones and pastels.
For those who favor understatement, consider combining neutral colors like beige, tan, or grey with a striking purse in an out-of-the-ordinary tint like turquoise or fuchsia. Alternatively, you can pair two opposing objects together for a sleek, appealing look to make others feel you are bold.
Conclusion
In conclusion, accessorizing your outfits can elevate your style and appearance. The right accessories can add the perfect finishing touch to your outfit and make you feel confident and beautiful. There are tons of women's fashion accessories that you can find attractive with your outfits. From jewelry to stylish hats and headbands, there are endless choices to select the most suitable ones for every Pakistani woman. You can take your fashion game to the next level and achieve the desired look with different accessories.