The Comprehensive Jewelry Buying Guide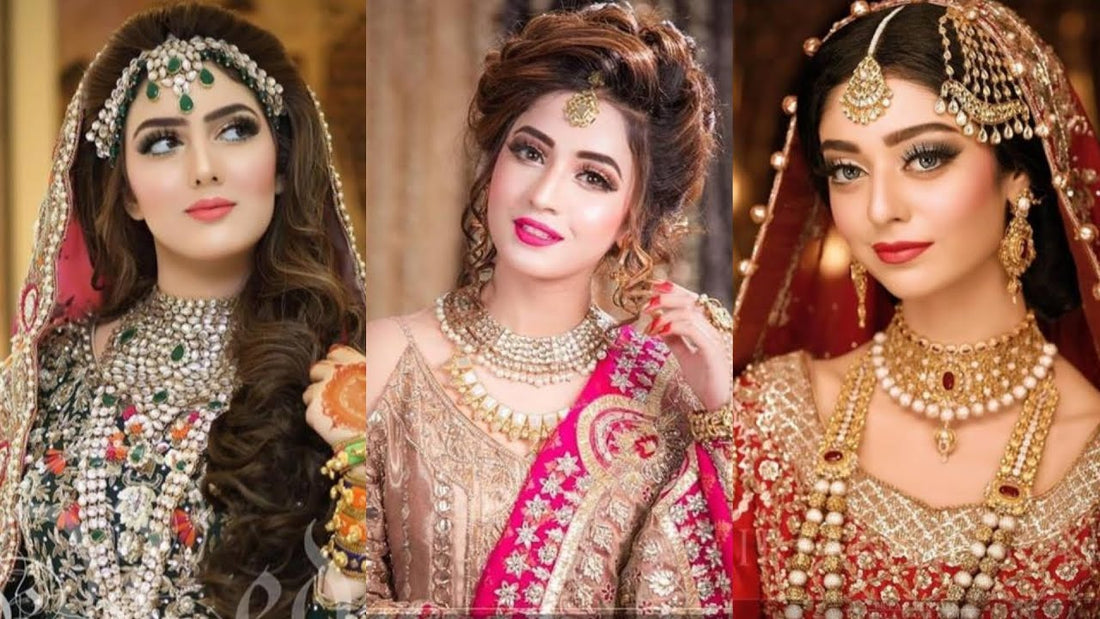 When purchasing jewelry, there are numerous factors to take into account, which can be overwhelming to the uninitiated. To ensure you have a positive shopping experience, it is crucial to comprehend the design and quality of the jewelry, where to buy it, and your consumer rights. Join us as we walk you through the factors to consider while purchasing.
Why keep expecting a gift? Get the jewelry of your dreams right away! A manual with all the information you require to take care of yourself.
You are an independent woman of the world, adamant about pursuing your goals. You don't wait for things to come to you, whether it's a beautiful career, an excellent holiday, or a fantastic flat. It should be the same with Pakistani jewelry online; you shouldn't require a lover or a family member to choose to give you jewelry as a present. You can and should purchase jewelry if you desire a particular item.
It can be thrilling, empowering, a needed pick-me-up following a difficult day, or a reward for success.
There is undoubtedly an item that completely satisfies your wardrobe, lifestyle, and price range.
Nevertheless, buying jewelry for yourself can be a little confusing if it's your first time. You are, after all, investing a lot of money in an item you intend to wear constantly, but with a little study and shopping, you can treat yourself to something beautiful (come on, you deserve it!). Your purchase will undoubtedly make you happy for many years to come. There is certainly a piece that perfectly complements your wardrobe, lifestyle, and price range, whether it be the diamond right-hand ring you've had your eye on, a gemstone pendant, a tennis bracelet, or large, sparkling stud earrings.
As with everything else, it's entirely up to you. You can construct your fine jewelry wardrobe piece by piece, starting with the essentials, or go straight for a showstopper your first time out. Women are purchasing for themselves on a grander scale than ever before.
What Is Jewelry?
An ornamental item worn on your body or in your clothing is jewelry. Usually, valuable metals like silver or gold are used to create these objects, or expensive stones are used as embellishments. However, jewelry can be made using the most basic and affordable materials, frequently worn for its visual appeal instead of its actual value.
Nearly since the beginning of human history, people have worn jewelry. Buying Jewelry-related artifacts have been found worldwide and go back to prehistoric times. Over the centuries, jewelry's meaning has evolved and has frequently served as a status symbol for the wearer.
How To Buy Jewelry
Determine your style before buying jewelry, and then go for pieces that complement it. Here are some queries to consider:
What do you wear to work? Is it conservative suits and high heels every day of the week, or is it more like casual Fridays?
Do you enjoy going out for drinks after work and seeing plays and operas on the weekends? Or do you prefer to play touch football in the park on Sunday afternoons?
Do you typically dress in flowery, feminine items or lean more towards a minimalist, sporty look?
Having a firm grasp of these concepts is crucial because you'll want your jewelry to complement your outfits when you choose them.
Check Out The Product Categories
To ensure that there is jewelry to suit every type of individual, taste, and choice, make sure the store you select carries a large selection of diamond/gemstone jewelry. When you shop at String N Thread, you may go through every product category by selecting "Shop" from the menu bar. We have product categories for both men and women for rings, bracelets, earrings, necklaces, and pendants.
Think about the subcategory now. For instance, there are many different types of earrings, including studs, drops and danglers, hoops, and more. Smaller than other styles of earrings, studs are immobile and rest on your earlobes. Drop earrings have tiny movement and rest just below your earlobes. Drops swing less and are shorter than danglers. Hoops can be worn on the earlobes and resemble rings.
Best Time To Buy Jewelry
Jewelry can be a worthwhile purchase, whether you're buying it for yourself or a loved one. An eye-catching cocktail ring or chic necklace may elevate your look, and these reasonably priced jewelry items can give you a million-dollar feeling without breaking the bank. However, fine jewelry is in a class by itself. These items might commemorate a momentous occasion, represent your love, or develop into priceless family heirlooms. In other words, we're discussing premium material, which is expensive. The optimal time to buy everything and anything does exist, though. And yet, if you know when and where to buy it, you may get high-quality jewelry without going broke. The best time to buy jewelry could be anytime because there is no specific time to look elegant.
Why Do People Buy Jewelry?
People purchase jewelry for various reasons, such as to enjoy its beauty, as a present to be passed down down the generations, or as an investment that will increase in value over time. The reasons why someone could purchase jewelry are covered below.
For some people, buying jewelry for themselves is a luxury. But occasionally, everyone deserves a treat. There are many different reasons why someone could purchase jewelry for themselves. They might want to buy a treasured item to commemorate a special occasion or accomplishment. They can adore the jewelry's visual attractiveness and desire to feel beautiful. Above all, purchasing jewelry for personal enjoyment is entirely allowed. Jewelry is, after all, intended to be worn and admired.
Related Article: How to Accessorize Pakistani Women's Outfit
Conclusion
To keep your jewelry looking as wonderful as the day you purchased it, you must take proper care of it. All jewelry occasionally needs cleaning and maintenance. We have provided you with a comprehensive Jewelry Buying Guide to maintain any item securely.
Different materials call for various kinds of treatments. The optimal care for your jewelry depends on your knowledge of the materials used to make it. For instance, cleaning pearls and gold requires different methods, and cautious handling is necessary for softer, more delicate jewelry.