How To Style Pakistani Menswear For Different Occasions And Events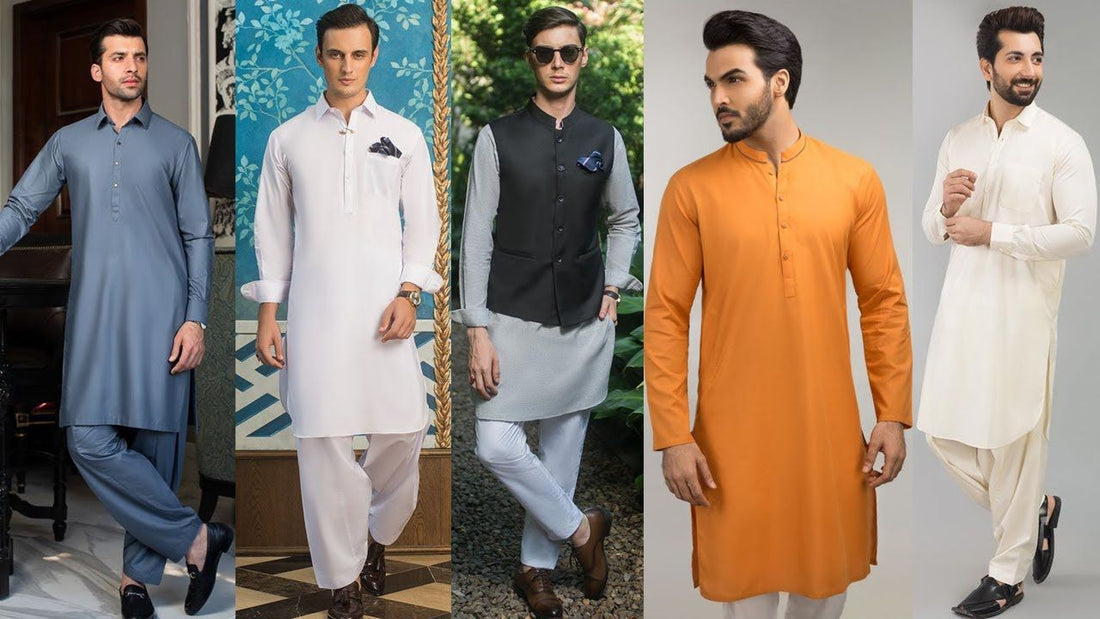 The kurta design is the most popular or essential ethnic attire for males. Looking back at the history and origins of Indian clothing, we can observe the prominence of kurtas as daily comfort clothing, whether it be the elegant or opulent designer kurta for men or the most basic men's kurta designs that are made to order by your neighborhood tailor. The men's kurta set is never out of style because it is cozy but also fashionable and up-to-date.
The men clothes worn by Pakistani males come in a wide range of ethnic styles that blend in with the general aesthetic of the Indian subcontinent while yet being distinct from it in a few subtle but critical ways. Men's Pakistani traditional clothing is that category of menswear that originated in this region and, in every way—from the materials used to the styles of embroidery and designs displayed—reflects the traditions and culture of the community.
Sherwanis, Pathani suits, and kurta designs for mens and pajamas are common choices for Pakistani men's attire. Since both locations have a shared history and traditional wear that the Mughals heavily influenced, there is a lot of crossover with Indian customs.
What sets mens Pakistani clothing apart is that they typically use very lightweight, highly comfortable, durable, and strong fabrics. They also come with subtle embroidery, which adds a lush and traditional vibe while still being understated and elegant.
In Pakistani men's fashion circles, traditional and contemporary kurta design looks are familiar. However, events and festivals look best with the classic types, which have vintage silhouettes, conventional color schemes, and elaborate needlework.
The younger generation can like the more contemporary looks that incorporate cutting-edge trends and flawlessly combine Western and Pakistani themes. For Pakistani men, clothing is more than something to put on your back; it symbolizes your importance and position. Wearing an elegant, well-tailored dress exudes wealth and distinction.
Kurta Pajama
There are also elegant variants that can be worn for parties and special occasions. The kurta style pajama is a terrific combination for casual and semi-casual activities. The free, airy shape of the trousers and the accommodating kurta pattern make this Pakistani outfit for guys incredibly comfortable. The glamorous factor of these clothes can also be increased by using chic color palettes and ethnic embroidery.
They have a variety of sleeve lengths; full sleeves are the most popular, while three-quarter and half sleeves are quickly gaining appeal. The classic favorite is the placket and collar neck, although round and v-necks are popular today, along with shorter kurta lengths.
Sherwanis
For weddings and other formal occasions, men in Pakistan can dress in sherwanis as an example of traditional attire. They fit considerably better than kurta for men, which are made to highlight the curves of the chest muscles; it is impossible to look unattractive in this outfit because it is made to bring out the most remarkable qualities of every man who wears them.
While less expensive items might use cotton, silk, polyester, or fake fabrics, the most costly variants will be constructed of materials like brocade, velvet, satin, and silk. Usually, they have gold thread embroidery at the borders and collars or all over the salwar. The bridal sherwanis typically have appliqué, stones, and appropriate beads for the setting.
Pathani suits, a popular and traditional style of men's clothing in Pakistan, are another exciting variety. They dress in loose, comfortable trousers and distinctly long kurtas for men with a characteristic collar neck. It has a stylish ethnic flavor that is unmatched. Since the creative neckline is frequently off-center, it provides the ideal chance to highlight Pakistani craftsmanship using traditional zari, cut dana, and patch borderwork motifs.
Also Read: Best Pakistani Designers to Try
Trends To Look For
The way that Pakistani men clothes have changed significantly throughout time. Every design element exhibits signs of international influence, from the silhouette to the materials chosen to the needlework used. This also expands the market for these costumes worldwide.
The Sherwani and Pathani suits' striking silhouettes on ramps worldwide can be seen. Fabrics like Banarsi silk and brocade are a few traditional favorites also becoming popular today.
These fabrics are sumptuous, making them ideal for special occasions; they don't require a lot of embroidery to give them a spectacular appearance. They, therefore, exude a subtle elegance that suits the manly vibe that men seek in their clothing.
Numerous new shades are also becoming popular in terms of color. Dresses for Pakistani men often range from white to orange, with beige, brown, black, dull green, and light yellow being the most popular colors. Black kurta designs for mens with purple embroidery or an orange sherwani with silver embellishments are two great color combinations you may get today.
These vibrant outfits look fantastic for festivals, weddings, and social gatherings. For a complete ethnic look, pair them with vibrant jutis or mojaris and crushed crepe men's dupattas.
Floral Print in Kurta Style
Floral is fashionable right now, and kurtas can also feature this pattern. Floral-printed kurtas go well with light-colored churidars. For occasions during the day, these kurtas are perfect. For these kurtas, be sure to pick pastel hues. Pick from colors like peach, mint green, baby pink, or baby blue, among others. You can add a shimmering border to your kurta if you think it's too plain.
Conclusion
kurta design comes to the rescue and saves the day for you when the summers get hotter. Wearing a shalwar kurta for a night party will offer you a formal appearance and live up to your expectations for the occasion and preserve your grace. They should be light and airy, fashionable, and comfortable. For the mehendi ceremony, most men wear shalwar kurtas exclusively. By wearing a vibrant piece of cloth wrapped over it, known as the dupatta, more pomp is added to it.
So here is a list of the furthermost straightforward, affordable, stylish, and elegant men clothes that your wardrobe has been hankering after to wear to a Pakistani wedding.