How to Wear a Dupatta - Different Style to Wear It Gracefully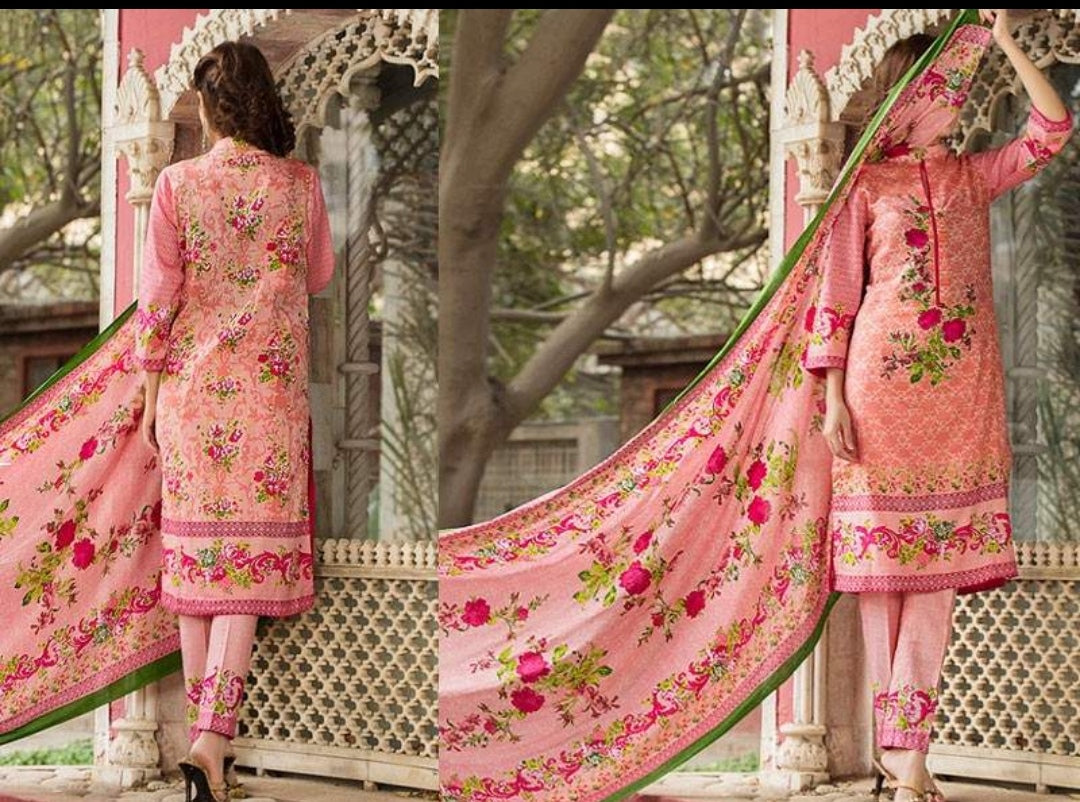 A dupatta is like the flowers on the moon - it not only enhances your appearance but also adds a touch of elegance and prettiness. Women from all around the world are adopting different styles to carry dupattas or scarf into their daily lives. In fact, the best way to finish your Pakistani look is to carry it with a dupatta. However, it can be a challenging task to wear something that's extensive and requires attention. But relax! In this blog post, we will share some top-notch and simple ways to wear a dupatta. Let's start and learn the magic behind the beauty of the dupatta style.
What Is a Dupatta?
Dupatta is a long scarf commonly worn by women in South Asia. It is usually draped over the head and shoulders and can be used for style or modesty. The fabric used to make dupattas can range from cotton to silk and may be adorned with embroidery, sequins, or other embellishments. Dupattas are versatile accessories and can be worn with traditional or modern outfits.
Types of Dupatta
If you're into ethnic fashion, you know how important a dupatta can be in elevating any outfit. With so many designs and ways to drape it, we've compiled a list of eight popular types that you definitely need to add to your wardrobe.
1. Banarasi Silk Dupatta
The Banarasi silk dupatta is a stunning piece of clothing that's perfect for weddings and special occasions. It's embellished with intricate zari work and designs, adding a luxurious touch to your outfit. In addition, a banarsi silk dupatta can add a touch of elegance to any traditional outfit.
2. Chiffon Dupatta
Ethereal and lightweight, chiffon dupattas drape beautifully. They hold the power to infuse grace into any outfit. Whether a casual lunch or an elegant evening gathering, a chiffon dupatta enhances your style with its fluidity and sophistication. Luckily, these dupattas are available at cost-effective prices in different stores.
3. Phulkari Dupatta
Phulkari Dupatta is a traditional embroidered shawl or scarf that originates from the Punjab region of Pakistan. It is typically made with brightly colored thread and features intricate floral or traditional beautiful designs.
4. Georgette Dupatta
These Pakistani dupattas are lightweight, sheer fabric pieces. It is made of silk or polyester and has a slightly crinkled texture. Georgette Dupattas are popular accessories for formal occasions such as weddings and parties. Its versatility and elegance make it a staple in every Pakistani woman's wardrobe.
5. Zardozi Work Dupatta
A zardozi work dupatta is a masterpiece of intricate embroidery, featuring opulent metal threadwork, often in gold or silver, along with beads and gems. This luxurious embellishment brings an air of regality to any outfit, making it an ideal choice for weddings and bridal ensembles, exuding timeless elegance.
6. Leheriya Dupatta
A Leheriya dupatta is characterized by its unique wave-like tie-and-dye patterns. This style is loved by teenage girls and adds a cheerful touch to any outfit. It pairs well with plain shalwar kameez, injecting color and youthful charm. The Leheriya dupatta balances tradition and modern aesthetics, making it a versatile choice.
7. Tussar Silk Dupatta
Tussar Silk Dupatta is crafted from natural tussar silk, known for its rich texture and earthy tones. This fabric adds a touch of rustic elegance to your ensemble. Ideal for three-piece suits, the tussar silk dupatta complements the traditional look with its organic feel. Its intricate appeal enhances the charm of any outfit, making it a favored choice for ethnic occasions.
8. Gota Patti Dupatta
Originating from the royal land of Rajasthan, the gota patti dupatta is a treasure trove of embellishments. Intricately embellished with Gota work, it imparts a regal touch to your attire. Perfect for weddings and celebrations, a Gota Patti Dupatta radiates traditional glamour.
Read more: Pakistani best designers to try
Classic Ways to Wear Dupatta
Learn the timeless beauty of draping a dupatta in classic styles that never go out of fashion. These techniques are easy to understand and perfect for elevating any outfit.
The Classic Shoulder Drape
Embrace timeless elegance by delicately draping your dupatta over one shoulder and letting it falls down your arm. This iconic style effortlessly elevates your cotton shalwar kameez ensemble, infusing it with an air of sophistication. Not only does it add a touch of grace, but it also keeps your dupatta securely in place, ensuring you stay comfortable and stylish throughout the day. A must-try for a refined and polished appearance that complements your cotton outfit beautifully.
The Front Tuck and Pleat
For a modern twist, consider the front tuck and pleat style. Gently tuck one end of the dupatta into the front of your bottoms and create a few neat pleats. This style offers a chic and streamlined appearance, perfect for occasions that call for a contemporary edge.
The One-Shoulder Sling
Infuse your ensemble with an air of effortless charm through the one-shoulder sling style. In different ways to wear dupatta, this laid-back yet stylish approach entails draping the dupatta diagonally across your torso. Moreover, it allows it to rest casually over one shoulder. The resulting look strikes a perfect balance between comfort and style, making it an ideal choice for casual or semi-formal occasions. Elevate your outfit with this relaxed elegance that speaks volumes in simplicity.
The Waist Embrace
Channel your inner diva with the waist embrace style. To create this style, secure a dupatta around your waist, letting it cascade down like a stylish sash. This method beautifully complements fitted wedding outfits, adding a touch of drama to your ensemble.
The Dupatta Shawl
Highlight the elegance of a shawl by draping the dupatta across your shoulders and securing it with a single pin at the front. This style not only keeps you warm but also lends an aura of sophistication to your appearance.
The Criss-Cross Elegance
For a unique and eye-catching look, try the criss-cross style. Drape the dupatta diagonally across your torso and secure it with pins in a criss-cross pattern. This technique is a favorite among fashion enthusiasts, showcasing the dupatta's intricate details while adding a modern twist to traditional wear.
The Side Sweep
Among the plethora of dupatta draping styles, the side sweep stands out for its graceful simplicity. Gently drape the dupatta over one shoulder, allowing it to cascade elegantly across your back. This asymmetrical look adds a captivating dimension to your outfit. Particularly enchanting when paired with intricately embroidered or embellished dupattas, the side sweep exudes a touch of glamour and artistry that's perfect for special occasions.
The Cape Dupatta
To infuse drama into your outfit, consider the cape dupatta style. Allow the dupatta to flow from your shoulders like a cape, adding a regal touch to your overall appearance. This style is perfect for occasions when you want to make a statement.
In the End
In discovering different ways how to wear dupatta, we've unraveled the artistry behind these versatile fabric pieces. From the classic shoulder drape to the dramatic cape style, each technique adds its touch of elegance to your attire, transforming your look effortlessly.
As you experiment with these diverse styles, remember that your choice of dupatta can enhance the beauty of any outfit. Whether embracing traditional attire or putting a modern twist on it, a well-draped dupatta complements your ensemble perfectly.
Furthermore, if you're looking to explore an array of choices, consider the affordable offerings from lawn brands of Pakistan. These brands provide a wide range of stunning dupattas that allow you to experiment with various looks without breaking the bank.
Incorporate these timeless techniques into your wardrobe, and let the dupatta become your canvas for self-expression and style. With myriad options at your disposal, you can confidently carry your dupatta in a way that embodies your personality and adds a touch of grace to your every step.