Top Pakistani Designers Eid Dresses For Women 2023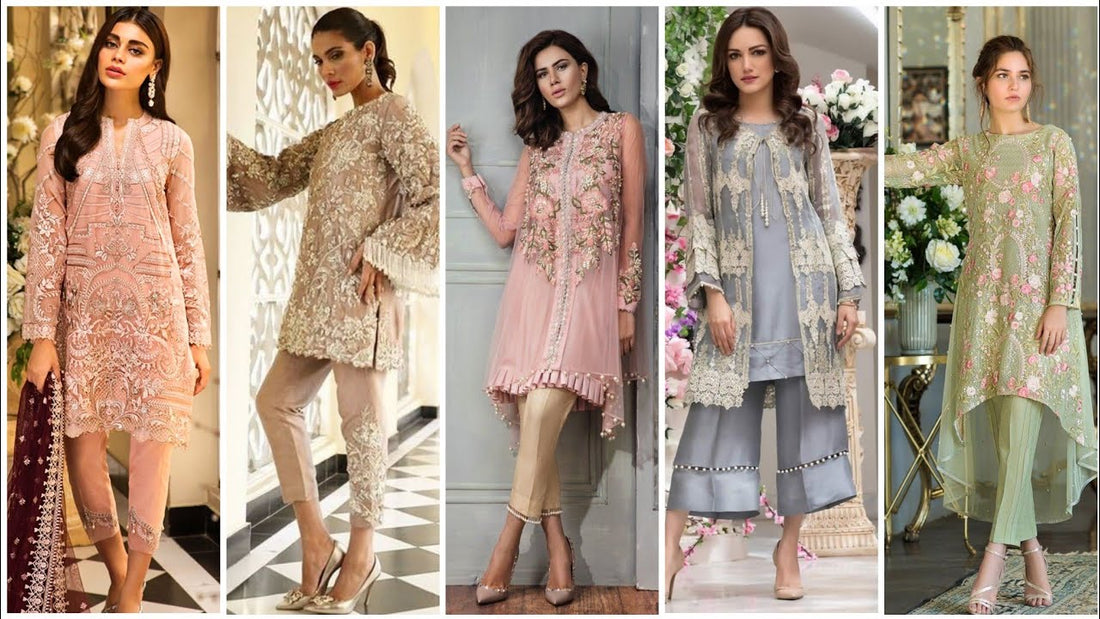 Trending Eid dress brands in Pakistan are solely thriving on their richness of culture and innovation. Pakistan has a rich and diverse fashion industry, including Eid dress brands with a blend of traditional and modern influences. Pakistani fashion is known for its vibrant colors, intricate embroidery, and luxurious fabrics. The traditional dress for women in Pakistan is the shalwar kameez, which consists of loose pants (shalwar) and a tunic (kameez) that can be long or short. The shalwar kameez is often worn with a dupatta, a long scarf that covers the head and shoulders.
Men typically wear a shalwar kameez or a kurta, a long tunic worn with loose pants. Western-style clothing is also popular, particularly in urban areas. Pakistan is known for its intricate embroidery and embellishments, often using techniques like zari, zardozi, and mirror work. The country is known for its high-quality textiles, including cotton, silk, and wool. Pakistani Eid dresses are made by fashion designers who are increasingly gaining international recognition, and Pakistani fashion shows are attended by celebrities and fashion enthusiasts worldwide. Some famous Pakistani fashion designers include HSY, Maria B, and Nomi Ansari, the Top Eid dress brands focusing on giving their customers an all-rounder experience!
Eid is a significant religious festival celebrated in Pakistan, and people typically dress up in their best clothes to mark the occasion. The traditional dress for women is the shalwar kameez, which can be made of various fabrics, including silk, chiffon, and cotton. Many women also wear dupattas, or long scarves, which can be intricately embroidered or beaded. On Eid, women often decorate their hands and feet with henna, a traditional form of body art. To complete their outfit, they may also wear jewelry, such as bangles, earrings, and necklaces. Overall, the emphasis on Eid is to look one's best and to celebrate the occasion with family and friends. All the famous designers of Pakistan have launched a variety of trending dresses. Favorite Pakistani brands such as:
Baroque Clothes is making a reputation in the sector through exposure and knowledge. The pret and eid collection from Baroque emphasizes distinctive shapes and contemporary silhouettes for an effortlessly stylish look while using a few embroidery and embellishments. As implied by the brand's name, Baroque suits focus on making fashionable, on-trend, and classic clothes by offering ensembles with contemporary silhouettes made mostly of hand-embroidered and machine-made fabric. By launching numerous ranges throughout the year and serving a wide variety of clients, Baroque can produce distinctive, straightforward, and perfect apparel for every occasion. l. The brand provides all the balance and relevancy appropriate for you and your loved ones outside the country.
Cross-stitch outfits are renowned for their inventiveness and overall beauty. The collection comes in a wide range of hues and patterns, and the costs are reasonable, making them perfect for Eid. It attracts ladies with elegant fashion; the brand has done extraordinarily well over time. To improve the piece's aesthetic appeal, motifs are incorporated. The items are available in both bright and soft hues! The designs come in a variety of styles and are carefully built. The artwork is meticulously made with excellent quality.
Elaf is the one-stop shop for all your ethnic clothing needs, offering a massive selection of outfits appropriate for parties, weddings, and other events. They use high-end textiles, including organza, chiffon, schiffli, cotton net, silk, and chikan karri. Elaf apparel is chic, contemporary, and suitable for all ladies. With these extravagant, seductive, stylish, and fairly priced costumes ideal for shadis, dawats, dholkis, and Eid, Elaf may create a fashion statement to help you stand out and look your best throughout the forthcoming wedding season.
One of the top brands in the nation, Gul Ahmed Pakistan, believes in modernizing fashion for everyone. Because of its powerful brand performance, the company produces gorgeous, chic, modern, yet classic designs. The brand is constantly evolving to serve our premium clientele best. The company offers several different sorts of fabrics. It is made of poly organza, cotton, viscose net, chiffon, and lawn. The distinctive quality of this business is its outstanding needlework, which showcases beautiful creativity and expert pattern creation.
The distinct fusion of traditional and modern styles and the use of brilliant colors and prints make Khaadi famous. The Khaadi clothing line includes a variety of outfits, including formal wear, preppy apparel, and traditional Pakistani outfits like kurtas, shalwar kameez, and dupattas. The company has built a devoted following among clients in Pakistan and worldwide because of its reputation for offering top-notch goods and first-rate customer service. These collections offer a range of conventional and modern designs and styles.
The brand is focused on the work of Pakistani designer Maria B. Most of her product comprises gorgeous lawn sets with the recognizable Maria B aesthetic, vintage embroideries, and eye-catching designs. There are formal and semi-formal, bridal, and casual outfits available from Maria B. They use contemporary design elements, rich fabrics, and delicate needlework. The company is well-known in Pakistan and exports its goods to many other nations. The brand is distinguished by its use of sheer fabrics and elaborate needlework, among other things. They are famous for employing luxurious materials like silk, chiffon, and organza, and they frequently include traditional Pakistani embroidery techniques, making them suitable for any event!