Traditional Pakistani Men's Clothing: Shalwar kameez Brands For Men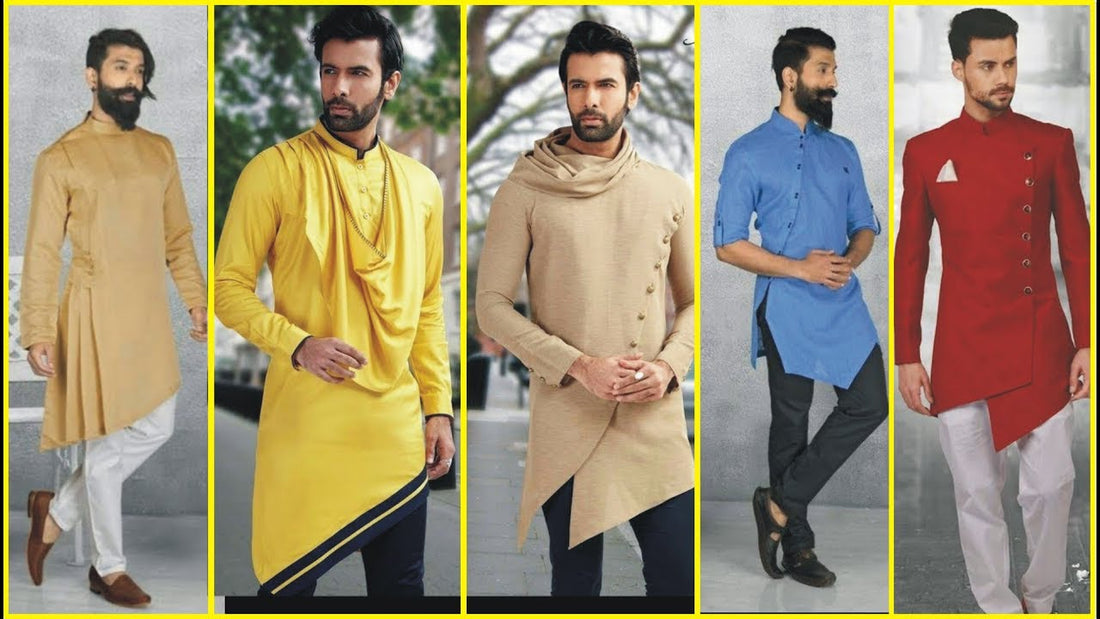 Shalwar Kameez is the Pakistani traditional clothing attire worn by almost every man in the country. In Pakistan, it is still a standard clothing option for individuals to wear a dress for decades. From their forefathers to future childrens, every man in the family wears shalwar kameez. It is comfortable and adaptable clothing worn in informal and formal settings.
Classical Charm of Traditional Pakistani Clothing
The shalwar kameez has a long history as a sign of wealth and prestige during the Mughal Empire. The shalwar kameez worn by Mughal rulers and nobility used to be rich with embroidery and ornaments. Over time, the outfit became more accessible and affordable, and its design and style evolved according to local customs and preferences.
Shalwar Kameez consists of two parts – the shalwar and the kameez. The shalwar is a loose-fitting pant that is usually narrow at the ankle. The kameez is a long shirt that can be straight or flared and can be ankle-length or knee-length. The kameez can be plain or decorated with embroidery, prints, or embellishments.
There are many styles of shalwar kameez, each with unique styles and designs. Some popular types include classic shalwar kameez, Pathani suits, Sherwani, and Kurta Pajama. Classic shalwar kameez is the most common and traditional style, while Pathani suits are popular among castes and areas. Sherwanis are a formal style of shalwar kameez worn on special occasions, and Kurta Pajama is a simple and comfortable style worn for casual occasions.
Top 5 Pakistani Shalwar Kameez Brands for Men
The traditional and ethnic clothing for males is the kurta or shalwar kameez. Men highly value a well-stitched Shalwar Kameez since it represents their masculinity. You may choose a fashionable kurta if you want to make a substantial impact on others around you.
Men from all social groups and backgrounds want to keep up with the most recent kurta fashion trends. In Pakistan, kurta brands are chosen based on the person's taste and personality. However, here is a list of leading clothing brands offering the highest quality Shalwar Kameez.
1. Junaid Jamshed
Junaid Jamshed, popularly known as J., is a leading brand of Pakistan traditional clothing attire and caters to all levels of sophistication. For all occasions, including Shadi, barat, walima, and other family gatherings, they offer new patterns for a stylish appearance.
holds the top spot for reasonably priced, excellent men's clothing, such as Shalwar Kameez and kurtas. It is one of the most reputable brands for Pakistan's traditional clothing. With their wide range of Shalwar Kameez collections, you can find the perfect size for men of all ages.
The dresses collection of J. is ideal, and if you desire a perfectly fitted fit, you just need to explore their ready-made shalwar and kameez collection. Remember that it is a trusted brand from millions of people that ensures good quality Pakistan traditional clothing.
2. Gul Ahmed
Reliability, innovation, and trustworthiness are the authentic charm of the best Pakistani Brand, Gul Ahmed. Every year, Gul Ahmed offers a distinct but outstanding collection for the male Shalwar Kameez collection.
Gul Ahmad's designs for the shalwar kameez enable wearers to maintain their style game. It is one of Pakistan's most reasonably priced and high-quality clothing brands; Gul Ahmed's Shalwar Kameez is a standard of excellence and stylish Shalwar Kameez.
They use the highest quality clothing material while putting a unique swirl on traditional styles of Pakistani dresses for men, devotedly serving generation after generation.
3. Saeed Ajmal
Saeed Ajmal is one of the most affordable and reputable men's Shalwar Kameez apparel brands. The trendy shalwar kameez outfits at Saeed Ajmal Clothing line offers for men and boys of any age.
The shalwar kameez clothing collection stands out from other brands compared to its stylish and distinctive shalwar kameez. If you want to wear elegant Shalwar Kameez designs on and off any occasion, choose a brand that embodies]grace and sophistication is everything you need.
The Pakistani men shalwar kameez brand are versatile, suitable for formal and casual occasions, and available in various colors and sizes.
4. Bonanza
There are almost 80 Bonanza stores spread across Pakistan. Men's ethnic apparel, knits, and traditional Pakistani shalwar kameez for men are all produced by Bonanza Satrangi. Bonanza always creates distinctive outfits for a glamorous look and was the first company to offer augmented reality to Pakistan.
Bonanza offers premium versions of classic male textiles, including Latha, unbranded cotton, and plain cotton. Those are in style, appealing, and cater to various customer needs. Among the best traditional clothing companies, it provides excellent men's apparel. Bonanza is a 10 out of 10 Pakistani traditional shalwar kameez brand to purchase dresses for any occasion.
5. Amir Adnan
Amir Adnan is one of Pakistan's fastest-growing Pakistani traditional dress brands for men due to its high-end shalwar kameez designs, particularly those created for weddings and celebrations, Amir Adnan offers a variety of conventional outfits that are all distinctive in their style.
In addition to its elegant designs, the brand also emphasizes comfort and affordability. Shalwar Kameez designs have high-quality, breathable fabric that ensures maximum comfort throughout the day. Amir Adnan brand also offers competitive pricing, making it accessible to many customers.
Conclusion
Shalwar Kameez is evidence of Pakistan's rich cultural history and traditional dresses for men. For men who want to embrace their cultural heritage, wearing Shalwar Kameez is a common choice because it combines elegance, refinement, and comfort. Since many Pakistani men's clothing brands exist, choose the best shalwar kameez for any special occasion. You can find hundreds of options to purchase Shalwar Kameez with distinctive designs, flexible customization choices, and reasonable prices.