Sustainable and Ethical Pakistani Kids Clothing Brands to Watch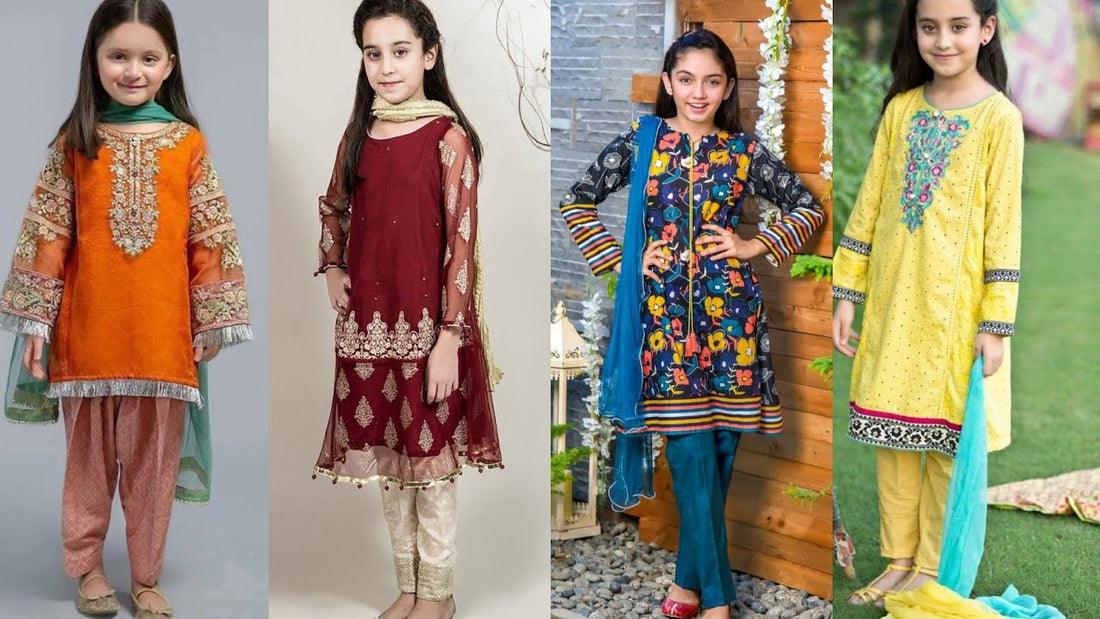 As our society is growing more aware of its impact on the environment, an increasing number of individuals are looking for sustainable clothing solutions in their daily lives. As a parent, we want to make sure the clothes we choose for our kids are comfortable, fashionable, and environmentally and socially conscious.
Spending a lot of money on children's clothing may seem unreasonable, but buying ethical kids' clothing will result in less waste and lower costs in the long term. In the fashion industry, sustainability and moral behavior are more important in children's apparel. It applies to the clothing we purchase for our children for any occasion, and it's crucial to consider sustainability when buying clothing for kids.
What is Ethical Kids' Clothing?
Kids' clothing is created ethically by considering the environment's sustainability and saving society from the negative impact on animals and people. It means prioritizing fair labor practices and using sustainable kids' clothing materials to create long-lasting garments.
One of the key aspects of ethical kids' clothing is fair labor practices. There has been an increase in the demand for eco-friendly children's apparel in recent years, and many companies are now prioritizing organic production practices. However, many Pakistani kid's clothing brands offer sustainable kids' clothing options.
Another important aspect of kids' apparel is using sustainable materials. It means using materials that are environmentally friendly and do not harm anyone. Many ethical kids' clothing brands use organic cotton, bamboo, or recycled materials to reduce the environmental impact of their production process.
Additionally, sustainable kids' clothing also focuses on creating long-lasting garments. It means making durable clothes that can withstand multiple washes and wears. By creating longer clothes, ethical brands reduce the amount of clothing waste in landfills.
Exploring Top 5 Kids' Clothing Brands in Pakistan
Cheap and disposable are valuable materials for ethical children's clothing, which can impact a significant environmental change. On the other hand, kids' sustainable clothing is made of eco-friendly materials and designed to last, making them a better choice for children.
Parents can positively impact the environment and support organic practices in the fashion industry by choosing such kids' apparel. However, it's important to note that moral clothing is often more expensive than fast fashion. Ethical brands prioritize fair labor practices and sustainable materials, which often come at a higher cost.
To assist you in choosing the right kid's clothing brands that support and promote sustainability for your children. We have figured out some of the best Pakistani brands that produce sustainable clothes and long-lasting and fashionable materials. By choosing such brands for purchasing clothes for your kids, you can also help companies promote eco-friendly materials and organic practices in the fashion industry.
Here are some of the top Pakistani organic fabric brands; you can explore and shop for great ethical children's clothing materials to wear:
1. Khaadi: The Fabric of the Future
Khaadi is a well-known and well-recognized sustainable fabric manufacturer originating in Pakistan. The company uses materials for everyone, including kids, in its extensive clothing line, including organic cotton, recycled polyester, ecologically friendly colors, and trims.
Khaadi works with local farmers, artisans, and manufacturers to create collections that respect ethical and eco-friendly production practices. Also, they adhere to the zero-waste idea by recycling the leftover components from their goods.
Khaadi aims to establish a society in which fashion and sustainability exist side by side. It is the name of a massive brand in the world. It is famous all around the world the female of every region and native.
The brand uses organic cotton, silk, linen, and wool, all eco-friendly and free from harmful chemicals. This commitment to sustainability reflects in Khaadi's production process, designed to minimize waste and reduce the brand's environmental impact.
2. Gul Ahmed: Making an impact every day
Pakistani apparel company Gul Ahmed maintains sustainability in their production. The company aims to offer premium Kids' apparel with sustainable and ethical materials. They also ensure their production processes have no adverse side effects on society or their fans.
Gull Ahmed's stylish and modern clothing retains traditional Pakistani fashion elements. They have sustainable apparel lines that include a range of styles, from casual to formal wear, for everyone, including kids.
Each collection makes with the utmost care and consideration for the consumer. No other company has a dedication similar to Gul Ahmad's commitment to act responsibly toward the environment and its people.
3. Sana Safinaz: True innovators and trailblazers
Sana Safinaz has also made a solid commitment to sustainable fashion in recent years.
It is a premier Pakistani apparel brand established in 1989, and it is now renowned for its luxury garment styles for kids. They have competitively priced sets with both traditional and modern patterns.
Sana Safinaz aims to produce environmentally friendly apparel using organic cotton, low-impact dyes, and recycled materials. This brand mixes fashion with sustainability to create stunning, long-lasting pieces that will remain in the closet for years, from vibrant kids' apparel and printed dresses to traditional, hand-made kids' garments. Additionally, the clothing designs celebrate Pakistan's culture and are popular among fashion-conscious consumers in Pakistan or other countries.
Overall, Sana Safinaz is a leading Pakistani fashion brand known for its unique and innovative fabrics and commitment to sustainability and organic children's clothing practices.
4. Generation: Pioneering ready to wear
The sustainable clothing company Generation in Pakistan serves everyone, from males and females to children. They offer fashionable, well-made, and ethically produced clothing. The brand uses eco-friendly materials, including organic cotton, hemp, and bamboo, to make chic and cozy clothes.
Generation is committed to sustainably making its apparel; as a result, they only utilize natural colors and recyclable packaging. They also employ environmentally sustainable energy sources. Generation is a perfect option if you care about the environment and want to purchase at organic establishments for your kids.
One of the unique aspects of Generation's sustainable children's fabric lines is their use of innovative and sustainable production techniques. These techniques reduce the brand's environmental impact and produce high-quality, durable, and long-lasting clothing materials.
5. Threads: A sustainable Fashion brand
Threads by Nomi Ansari uses beautiful, enduring, sustainable materials crafted with the environmental phases in mind. The eco-friendly materials they utilize in their designs are recycled polyester and organic cotton.
Threads aim to make ethically good clothes that are also environmentally beneficial. Its unique designs are a reflection of Pakistani culture.
Each children's clothing apparel is also meticulously crafted to withstand years of use by the customer. Threads' commitment to sustainability and organic children's clothing practices has earned the brand a loyal following in Pakistan and worldwide. The brand's sustainable fabric collections reflect its values and dedication to producing high-quality, environmentally reliable clothing for children that celebrates Pakistan's cultural heritage.
Conclusion
In conclusion, sustainable and ethical kids' clothing is an important topic we should all take seriously. It is about creating a safer and more beneficial environment for our children and promoting honest and fair labor practices. We must recognize that our actions impact the world around us and that we can make a positive difference through our choices.
Well, there are clothing brands in Pakistan where you can purchase kids' apparels that promote sustainability. You can find and shop from these stores if you are looking for brands that provide eco-friendly Pakistani kid clothing in the USA.
Related Post: Best Pakistani Designers to Try