When Should You Buy Your Wedding Dress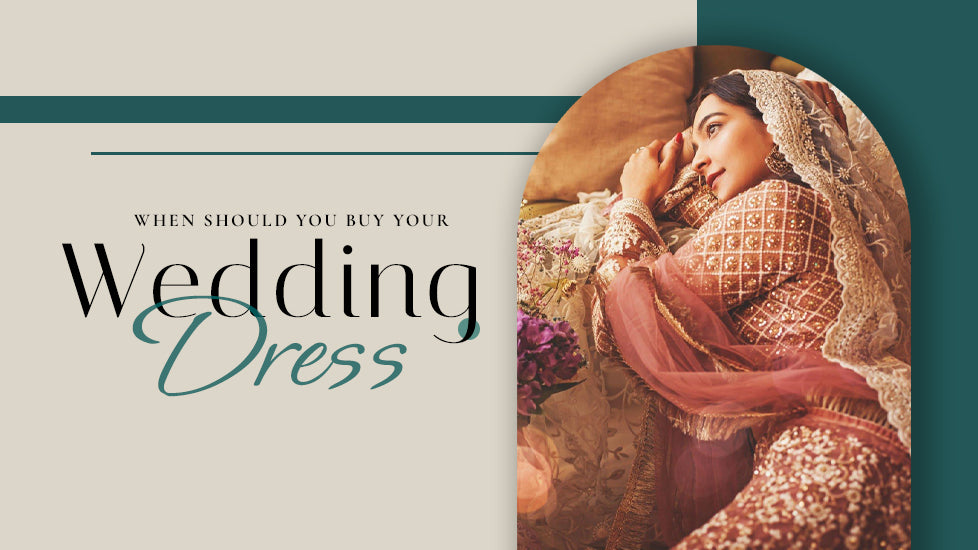 Selecting the perfect wedding dress is a cherished and pivotal moment in every bride's journey to the aisle. It's not just a garment; it's a symbol of love, commitment, and the beginning of a beautiful lifelong adventure. But here's the twist: finding the dress of your dreams isn't just about style and design—it's also about timing. Purchasing your wedding dress well in advance is a crucial decision, one that can significantly impact your entire wedding planning process.
In this guide, we'll delve into the importance of timing in wedding dress shopping, guiding you on when to shop for wedding dress so you can focus on the "what" of your dream wedding attire.
The Ideal Timeframe for Wedding Dress Shopping
In a perfect world, you'd start shopping for your wedding dress about a year before your big day. This timeline allows for an enjoyable and relaxed experience. It provides room for multiple fittings, alterations, and customization, ensuring your gown fits you like a glove and matches your vision perfectly. Moreover, you'll have the best time to buy wedding dresses to explore various styles, designers, and boutiques, making an informed and confident decision.
Why You Should Start Early?
Commencing your wedding dress shopping early offers several advantages:
Availability
Popular wedding dress styles and designers are often in high demand. Starting early gives you access to a wider selection and more choices to find the dress that resonates with your unique style and personality.
Reduced Stress
With wedding dress alterations timeline on your side, you can avoid the rush and stress associated with last-minute decisions. Wedding dress shopping should be a joyful experience, and an early start ensures you enjoy every moment.
Alterations
Most wedding gowns require alterations to achieve that perfect fit. Beginning the process early allows your seamstress or tailor sufficient time to work their magic, ensuring the dress flatters your figure.
Customization
If you wish to personalize your dress or make specific changes, such as adding sleeves or altering the neckline, starting early provides the opportunity for these customizations.
Venue and Season Considerations
The choice of your Pakistani bridal dresses online might be influenced by the wedding venue and season. An early start allows you to consider the practical aspects of your gown, such as fabric and length, in alignment with your wedding's location and climate.
Peace of Mind
Knowing that you've secured your dream dress well in advance offers peace of mind. It's one less thing to worry about as you approach your wedding day.
The Ten-Month Rule
In fact, some experts suggest a ten-month rule for dress shopping. This timing accounts for ordering your dress and any required alterations and leaves a buffer for unexpected delays. It's a solid compromise between the ideal one-year timeframe and the absolute minimum. Plus, it aligns with the wedding industry's typical production and delivery schedules.
In the whirlwind of wedding planning, it's easy to underestimate how long the process of finding and acquiring the perfect dress can take. Starting your wedding dress shopping well in advance, whether it's a year or ten months ahead, is a thoughtful and strategic decision that ensures you feel radiant and confident as you walk down the aisle in your dream gown. So, make the most of this delightful experience by giving yourself the gift of time to find the dress that encapsulates your vision for your special day.
Factors Affecting the Timeline
The ideal wedding dress alterations timeline for wedding dress shopping is not solely a matter of personal preference; it's also influenced by several key factors that can significantly impact your gown selection process. Understanding these factors is essential for a smooth and stress-free experience. Here, we explore the elements that affect the timeline for your wedding dress shopping:
Wedding Date
The date of your wedding is perhaps the most critical factor influencing your dress-shopping timeline. The sooner you set your wedding date, the better, as it allows you to work backward and establish a dress-shopping schedule. Starting early is especially important if you're planning a wedding during peak wedding seasons when bridal boutiques may be busier.
Designer Lead Times
Different wedding dress designers have varying lead times for their creations. Some may take several months to craft a custom gown, while others have dresses readily available for immediate purchase. Knowing the best time to buy wedding dresses of your preferred designers will help you plan accordingly.
Boutique Availability
The availability of bridal boutiques for dress appointments can vary, particularly during peak wedding seasons. Booking early appointments is advisable to ensure that you have the full attention of the staff and access to a wide selection of dresses.
Venue and Season Considerations
The choice of your wedding dress may also be influenced by the location and season of your wedding. For example, if you're planning an outdoor summer wedding, you may opt for lighter, breathable fabrics. These considerations should be factored into your dress-shopping timeline.
Unexpected Delays
In the world of wedding planning, unexpected delays can occur. It's prudent to leave a buffer in your timeline to accommodate any unforeseen setbacks. This extra time can prevent last-minute stress and ensure that you receive your gown well before the wedding.
Availability of Accessories
In addition to the dress, you'll likely want to select accessories such as shoes, a veil, a headpiece, or jewelry. These accessories should complement your gown, and it's advisable to secure them in advance to ensure they are cohesive with the dress.
How far in advance to buy wedding dress? Considering these factors when establishing your dress shopping timeline is essential for a smooth and enjoyable wedding dress shopping experience. Your dress is a central element of your wedding day, and by planning accordingly, you can ensure it's a reflection of your style and vision while reducing stress and last-minute worries.
Tips for Stress-Free Wedding Dress Shopping
Dress shopping for your wedding should be an exciting and joyous experience, not a stressful one. To ensure a stress-free journey in finding the perfect wedding gown, consider the following tips:
Set a Realistic Budget
Establish a clear budget for your wedding dress and accessories. This helps narrow down your choices and prevents you from falling in love with a dress that's beyond your budget.
Research Styles
Familiarize yourself with different wedding dress styles before your shopping appointments. This will streamline the process and make it easier to communicate your preferences to bridal consultants.
Stay Open-Minded
While it's good to have a style in mind, don't be afraid to try on dresses for engagement photos that your bridal consultant recommends. You might be pleasantly surprised by something you hadn't considered.
Dress Shopping Entourage
Limit your shopping entourage to a few close and trusted friends or family members. Too many opinions can be overwhelming, and it's important to prioritize your own vision.
Wear the Right Undergarments
Choose undergarments similar to what you'll wear on your wedding day. This will give you a more accurate idea of how the dress will fit and look.
Book Appointments
Most bridal boutiques operate by appointment only. Booking in advance ensures you have a dedicated consultant's attention and a personalized shopping experience.
Consider the Venue
Think about the location and season of your wedding when selecting your dress. Ensure the fabric and style are suitable for your chosen setting and climate.

Take Photos and Notes
Document each dress you try on with photos and notes. This will help you remember the details and make comparisons later.
Trust Your Instincts
When you find a pakistani dress that makes you feel beautiful and confident, trust your instincts. Your dress should make you happy and reflect your personality.
Stay Hydrated and Energized
Dress shopping can be physically demanding. Stay hydrated and have a light meal before your appointments to keep your energy up.
By following these tips, you can make your wedding dress shopping experience enjoyable, stress-free, and, most importantly, successful. It's a memorable and exciting part of your wedding preparations, and with the right approach, you'll find the dress that fulfills your bridal dreams.
Final Words
As we conclude, it's clear that starting early, ideally about a year before your big day, is the key to ensuring a stress-free and enjoyable dress-shopping experience. By accounting for factors like designer lead times, customization, and alterations, you'll secure the gown of your dreams that perfectly aligns with your vision.
Remember, the journey to finding the perfect wedding dress is not just about the destination; it's about the experience. Starting early allows you to cherish every moment, make well-informed decisions, and embrace the joy of becoming a bride. So, embark on this beautiful adventure, and with the gift of time, you'll radiate confidence and elegance as you walk down the aisle in a gown that captures your bridal dreams.